Tuscan Bean Soup
by
Making hearty bean soups used to require hours in front of the stove. You'd simmer chicken bones for broth and cook dried beans for hours – all before you even began preparing the actual soup. With the help of canned products, soup gets a whole lot easier but doesn't have to lose its homemade flavor.
My Tuscan Bean Soup starts by sautéing some diced pancetta, a cured Italian bacon that is now available from most supermarket delis. Onion, carrot and garlic are added as a savory flavor base and fresh sage gives the soup an earthy kick. Canned reduced-sodium chicken broth and cannellini beans are the trick to this soup's ease of preparation.
A chiffonade of greens is a classic Italian addition. Escarole, kale, spinach or romaine lettuce all can be used, depending on what is available at your supermarket. The greens are added at the end of cooking and are stirred until wilted. This luscious bean soup can be prepared from start to finish in less than 45 minutes, but the final dish tastes like you slaved over the stove all day
1 tablespoon olive oil
6 ounces sliced pancetta, diced
1 medium onion, chopped (about 1 cup)
1 medium carrot, peeled and grated
1 teaspoon minced garlic
1 to 2 tablespoons fresh sage leaves, cut into a fine chiffonade
1 bay leaf
32 ounces (4 cups) reduced sodium chicken broth
2 15-ounce cans white beans, rinsed and drained, divided
2 cups escarole, kale, spinach or romaine lettuce, cut into a medium chiffonade
Freshly shredded Parmesan or Romano cheese, for garnish
Heat oil in a Dutch oven over medium-high heat. Add pancetta and sauté until golden. Add onion, carrot, garlic and sage and sauté until vegetables are tender, about 5 minutes. Add bay leaf, chicken broth and one can of white beans. Mash the other can of white beans and add to the soup. Bring to a boil, reduce heat and simmer 30 minutes. Stir in lettuce and sage and simmer until lettuce is wilted. Serve in bowls, garnished with some of the cheese, if desired.
Makes 8 servings

Print This Page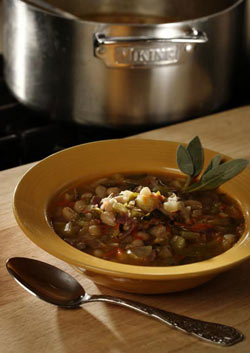 Related Menus
Sumptuous Soup Supper
Related Recipe Categories
Soups and Salads

| | |
| --- | --- |
| | Karin Calloway is a working mom living in Augusta, Ga., with multiple freelance jobs and a ton of dirty dishes. |