Blueberry Peach Deliciousness
by
Blueberries and peaches. What an awesome combination! When a recent CSA delivery included both, I used them to make a simple dessert that's not a cake, not a custard...it's just really good.
The batter for this deliciousness is a recipe I've had for years. Unfortunately, I'm not sure where it came from. It originally included apples as the fruit, but the blueberries and peaches were delicious. When fall comes around, you can substitute four Granny Smith or other tart apples for the blueberries and peaches.
Peach and Blueberry Deliciousness
2 eggs
1 cup sugar, plus ¼ cup for the topping
1/2 cup (1 stick) butter, melted
1 teaspoon powdered vanilla (or 1 teaspoon vanilla extract)
1/2 cup flour
2 teaspoons baking powder
1/4 teaspoon sea salt
1/2 cup buttermilk
3 peaches, peeled and thinly sliced
1 cup fresh or frozen blueberries
1 teaspoon ground cinnamon, for the topping
Preheat oven to 350 degrees. Wrap the bottom of a 10-inch springform pan with heavy duty foil, grease the pan and place it on a baking sheet. Set aside.
Beat the eggs and sugar in a medium-large bowl with an electric hand mixer and beat until thick, about 3 minutes. Stir in the vanilla and melted butter.
Combine flour, baking powder and salt in a small bowl and then add to the wet mixture, alternating with the buttermilk. Fold in the fruit. Spread the batter in the prepared pan. Combine the remaining 1/4 cup of the sugar and the cinnamon and sprinkle over the top and bake for 25 minutes. Rotate the pan and then bake for 25-30 minutes more, until a knife inserted in the center comes out clean.
When ready to serve, run a thin paring knife around the edges of the pan and remove the ring. Cut into wedges and serve.

Print This Page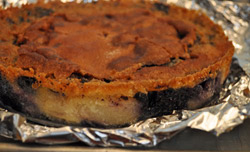 Related Recipe Categories
Desserts

| | |
| --- | --- |
| | Karin Calloway is a working mom living in Augusta, Ga., with multiple freelance jobs and a ton of dirty dishes. |