Cheese Straws
by
Cheese straws are about as Southern as it gets. These savory little crisp pickup nibbles are served at cocktail parties and most older Southern hostesses have a box of cheese straws on top of the fridge or in the freezer during the holidays.
1 pound extra sharp cheddar cheese, grated and softened
1/2 cup (1 stick) butter, softened
1 1/2 cups all purpose flour
1 teaspoon baking powder
1/2 to 1 teaspoon cayenne pepper (Hubby likes 1 1/2 to 2 teaspoons!)
1 teaspoon salt
Preheat oven to 325 degrees (or 300 degrees on convection bake). Place the cheese and butter in a food processor fitted with a steel blade. Pulse until combined. Add the remaining ingredients and pulse until the dough forms a paste. Place a portion of the dough in a cookie press fitted with a star tip and pipe onto a nonstick or parchment paper-lined baking sheet. Repeat with remaining dough.
Bake for 10-15 minutes (13 minutes was perfect for me on convection bake), until the cheese straws have almost stopped sizzling. Remove to a wire rack and cool completely. Store in an airtight container.
Makes about 4 dozen.

Print This Page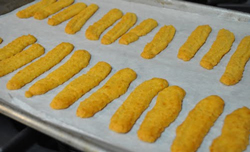 Related Recipe Categories
Appetizers

| | |
| --- | --- |
| | Karin Calloway is a working mom living in Augusta, Ga., with multiple freelance jobs and a ton of dirty dishes. |