Hoppin' John
by
My Hoppin' John is a bit nontraditional, but it has loads of flavor. I add a spicy kick with chopped fresh jalapeno and then a hint of sweet/sour (just a hint) from balsamic vinegar. The vinegar just rounds things out a bit. Shake a little pepper-flavored vinegar (the kind with tiny peppers in the jar along with the vinegar) over your serving for added flavor and kick.
1 tablespoon olive oil
1 small onion, peeled and finely chopped
1/2 large jalapeno, seeded and finely chopped
1 teaspoon minced garlic, about 1 large clove
3 links home-smoked sausage or 1/2 pound store-bought smoked sausage (such as kielbasa), cut into 1/4-inch discs
2 16-ounce cans black-eyed peas, rinsed and drained, or 1 pound fresh or frozen black-eyed peas with snaps (cooked prior to using in this recipe)
2 cups of chicken or vegetable broth
1 tablespoon balsamic vinegar
Sea salt and freshly ground black pepper, to taste
3 cups hot cooked white rice
Pepper-flavored vinegar, optional, for serving
Heat olive oil in a large sauté pan over medium-high heat. Add the onion and jalapeno and sauté until the onion is wilted and the vegetables begin to turn golden brown, about 5 minutes. Add in the garlic and cook 1 minute more. Add the smoked sausage, black-eyed peas and broth and bring to a boil. Reduce heat and simmer for 15 minutes. Stir in the vinegar and season to taste with salt and pepper. Serve with the white rice.

Print This Page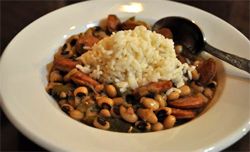 Related Recipe Categories
Main Dishes

| | |
| --- | --- |
| | Karin Calloway is a working mom living in Augusta, Ga., with multiple freelance jobs and a ton of dirty dishes. |