Catfish and Crab Roll-Ups
8 U.S. Farm-Raised Catfish Fillets Olive oil 
¼ cup butte
¼ cup yellow onion, minced
½ cups crabmeat
¼ cup fresh parsley, chopped
3 garlic cloves, minced
½ teaspoon salt
¼ teaspoon pepper
1 sleeve buttery round crackers, crushed
4 lemons, halved
½ cup grated Parmesan cheese
2 tablespoons butter
1. Preheat oven to 400º F.
2. Lightly coat bottom of 13 x 9 baking pan with olive oil.
3. In sauté pan over medium heat, melt butter. Add onion; cook 2 minutes or until translucent. Add crabmeat, parsley, garlic, salt and pepper. Cook 2 minutes, remove from heat and stir in crushed crackers.
4. Place fillets flat side up on work surface. Spread crab mixture evenly over each fillet. Begin rolling from the thinner end of the fillet toward the thicker end. Secure each roll with two toothpicks.
5. Place each roll in baking pan so the crab filling is up. Squeeze ½ lemon over each fillet, then sprinkle with Parmesan cheese and dot with butter. Cover pan with aluminum foil; bake 15-18 minutes or until fish is cooked through.
Serves 4
Recipe provided by The Catfish Institute.

Print This Page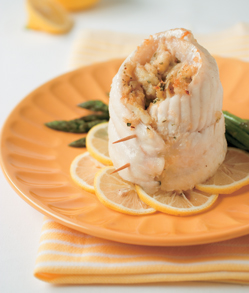 Related Recipe Categories
Main Dishes
The Catfish Institute
Viking Owner's Exclusives