Spicy Asian Catfish with Stir-Fried Vegetables
Spicy Asian Catfish
3 U.S. Farm-Raised Catfish Fillets
3 teaspoons Chinese 5 Spice
½ cup Asian marinade
4 tablespoons olive oil
1 cup sliced mushrooms
1 cup snow peas
1 cup bias-cut celery (thin)
1 cup sliced red and yellow bell peppers
2 teaspoons corn starch
1 cup bean sprouts
½ teaspoon salt
Cooked rice or noodles for serving
Asian Marinade
6 ounces pear juice
¼ cup soy sauce
¼ cup rice vinegar
1 tablespoon fresh ginger, grated
½ teaspoon ground red pepper
¼ cup honey
½ teaspoon ground mustard
1. Cut catfish into bite-size chunks. Place in shallow dish and add Chinese 5 Spice; toss to coat. Add ½ cup Asian Marinade and toss to coat; let sit 10 minutes.
2. While fish is marinating, heat large skillet or wok over high heat for 2 minutes; add oil. Add all vegetables except bean sprouts; cook 3 minutes, stirring frequently. Remove with slotted spoon and set aside. Add catfish to hot skillet and stir-fry 2 minutes.
3. Mix in 2 teaspoons of corn starch and reserved marinade; stir until there are no lumps. Add marinade and cornstarch mixture to pan. Add vegetables and bean sprouts. Cook 2 minutes or until sauce has thickened. Season with salt.
4. Remove from heat and plate with your choice of rice or noodles.
Serves 4 - 6
Asian Marinade
Whisk together all ingredients in medium bowl.
Recipe provided by The Catfish Institute.

Print This Page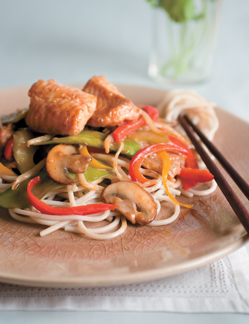 Related Recipe Categories
Main Dishes
The Catfish Institute
Viking Owner's Exclusives