Catfish Pinwheels with Bleu Cheese, Dried Cherries and Arugula
Catfish Pinwheels
2 U.S. Farm-Raised Catfish Fillets, cooked and flaked
3 cups arugula
1 package "flat-out" wraps
bleu cheese spread
1 8-ounce cream cheese, softened
½ cup bleu cheese
½ cup dried cherries
¼ teaspoon salt
¼ teaspoon black pepper
1. Lay flat bread onto work surface. Spread layer of Bleu Cheese Spread across entire surface. Add layer of catfish, then top with thin layer of arugula.
2. Starting at one end, tightly roll up flat bread. Repeat with remaining flat bread. Cover with plastic wrap and place in refrigerator for 5 minutes to chill before slicing.
3. Slice into 1-inch pieces and place on serving tray.
Serves 7 wraps (40 pieces)
Bleu Cheese Spread
In the bowl of an electric mixer, combine cream cheese, bleu cheese, dried cherries, salt and pepper. Mix on high 3 minutes or until completely incorporated.
Recipe provided by The Catfish Institute.

Print This Page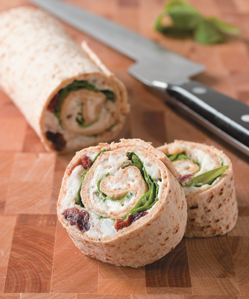 Related Recipe Categories
Appetizers
The Catfish Institute
Viking Owner's Exclusives