Quick Fried Rice
by
Fried rice is a takeout favorite, but it is a snap to prepare at home with leftover cooked rice. In fact, the dish is best when made with leftover rice rather than freshly cooked.
Supermarkets offer packages of cooked rice that are perfect for making fried rice, and I like to employ a little culinary deception and sneak cooked brown rice into my family's fried rice. Once the soy sauce is added to the dish it is impossible to distinguish whether the rice is white or brown, and brown rice is packed with dietary fiber. You'll need two packages of prepared rice for the recipe.
This fried rice includes shredded carrot, cooked ham, peas and egg, but you can add all sorts of leftovers to the dish. Add diced grilled or broiled chicken, steak or shrimp, leftover broccoli or other vegetables, or some canned, diced pineapple.
4 cups cooked white or brown rice*
2 tablespoons toasted sesame oil
2 large carrots, peeled and shredded
2 teaspoons minced fresh garlic, about 1 large clove
2 tablespoons grated fresh ginger
2 cups diced cooked ham, chicken or pork
4 green onions, sliced
1 10-ounce package petite peas, defrosted
3-4 tablespoons regular or reduced-sodium soy sauce
2 eggs, beaten
Heat sesame oil in a large nonstick skillet or wok. Add carrots and sauté until almost tender, about 2 minutes. Add garlic and ginger and sauté 1 minute more. Add green onions and sauté 2 minutes. Add cooked rice, peas and soy sauce and sauté until rice is heated through. Make a well in the center of the skillet and add the beaten egg. Scramble the egg, and then stir it into the rice. Taste and add additional soy sauce, if needed.
Makes 6-8 servings.
*Two cups of rice cooked in 4 cups of water will yield approximately 4 cups of cooked rice.

Print This Page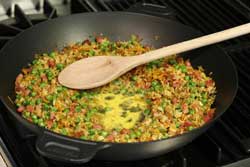 Related Menus
Asian Cooking with Kids
Related Recipe Categories
Vegetables and Sides

| | |
| --- | --- |
| | Karin Calloway is a working mom living in Augusta, Ga., with multiple freelance jobs and a ton of dirty dishes. |