Marinated Feta Bruschetta
Marinated Feta
1/4 cup fresh parsley leaves
3 tablespoons fresh oregano leaves
2 tablespoons fresh thyme leaves
3 tablespoons fresh basil
2 cloves garlic, coarsely chopped
1 1/2 cups extra-virgin olive oil
1/4 teaspoon cayenne pepper
1 tablespoon finely minced lemon zest
2 tablespoons freshly squeezed lemon juice
Salt and freshly ground black pepper, to taste
1 pound firm feta cheese, cut into 1/2-inch cubes
With the motor running, drop the herbs and garlic through the feed tube of a food processor fitted with the metal blade. Drizzle in olive oil to form an emulsion; turn off the motor, then add cayenne, lemon zest, lemon juice, salt and pepper; pulse once or twice to combine. Transfer marinade to a large bowl and toss with feta. If desired, grind more pepper on top. Cover and refrigerate for at least 4 hours before serving.
Bring feta to room temperature and serve on top of toasted baguette slices. If you desire, you may arrange the feta bruschetta on a baking sheet and place under a preheated broiler until the cheese is slightly melted and just beginning to brown, about 2 minutes.
Bruschetta
1 baguette, cut into 1/4th-inch thick slices
1/4 cup extra-virgin olive oil
Salt and freshly ground black pepper, to taste
Preheat oven to 400 degrees F. Brush baguette slices on both sides with olive oil and season with salt and pepper. Bake on a parchment-lined baking sheet until crisp and golden brown, about 10 to 15 minutes.
Variation
: Grill the baguette slices rather than toasting in the oven. Use your favorite herb combination rather then parsley, oregano, thyme, and basil.
Make It Ahead
: Prepare bruschetta one day in advance and store in an airtight container. Marinate feta up to three days in advance.
Makes about 24 appetizers.

Print This Page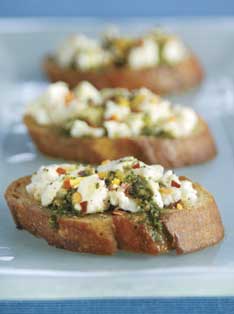 Related Recipe Categories
Appetizers
Viking Cooking School Recipes