Goat Cheese, Walnut, and Spinach Terrine
by
Cheese spreads are always a hit at parties, from tailgate time to holiday gatherings. This Goat Cheese, Walnut and Spinach Terrine is just a dressed up cheese spread that is as pretty to look at as it is delicious.
The terrine's layers of creamy, rosemary-infused goat cheese and walnut-spinach pesto come together in the snap with the use of a Viking Food Processor. And, you can make the spinach pesto right after the goat cheese spread without stopping to clean the bowl.
The terrine can be made several days before serving, and the flavors improve as the combination refrigerates. While a terrine is generally a rectangle, feel free to use other molds to shape your spread. A round mixing bowl, heart-shaped cake pan or Christmas tree-shaped mold all would make pretty presentations.
2 small cloves garlic, divided
1 8-ounce package cream cheese, at room temperature
10.5 ounces goat cheese, at room temperature
3 tablespoons whipping cream, half and half or milk
1/2 teaspoon chopped fresh rosemary leaves
Salt and freshly ground black pepper, to taste
1 10-ounce package frozen chopped spinach, thawed and squeezed very well
1 cup chopped fresh parsley
1 cups walnut halves or pieces
1 cup freshly grated Parmesan cheese
1/2 cup olive oil
Juice of 1 lemon
1 teaspoon dried basil
1 teaspoon dried oregano
1 teaspoon dried thyme
Crackers
Place 1 clove of garlic in the bowl of a food processor fitted with a steel blade. Cover with top and pulse until garlic is finely minced. Add cream cheese, goat cheese, whipping cream, rosemary and salt and pepper to taste and pulse until smooth. Scrape into a bowl and set aside.
Pulse remaining clove of garlic in the food processor. Add spinach, parsley, walnuts, parmesan cheese, oil, lemon juice and pulse until well blended. Taste, and add salt and pepper, as needed.
Line a terrine or loaf pan with plastic wrap, extending the wrap over the sides of the pan by several inches. Spread 1/2 of spinach mixture in bottom of prepared pan. Spoon dollops of cheese mixture over the top and spread evenly. Spread with remaining spinach mixture, cover with plastic wrap that is extending over the sides of the pan and refrigerate for several hours or overnight.
Peel back plastic wrap from the top of the terrine and invert onto a serving plate. Carefully peel off the plastic wrap and discard. Spread on crackers.
Makes 12 servings.

Print This Page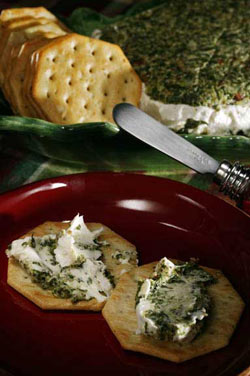 Related Menus
Fireside Holiday
Related Recipe Categories
Appetizers

| | |
| --- | --- |
| | Karin Calloway is a working mom living in Augusta, Ga., with multiple freelance jobs and a ton of dirty dishes. |