Black Forest and Muenster Rolls
by
Frozen bread and roll dough are a boon for busy cooks, especially during the holiday season. And this is a recipe that takes advantage of these convenience products.
I first sampled this recipe for Black Forest and Muenster Rolls while serving on the executive committee of the Junior League of Augusta. Our president at the time, Gail Stebbins, an Augusta attorney and gourmet cook, served us many memorable meals at meetings around her dining room table. Gail's rolls were prepared with homemade yeast dough, but if you thaw a loaf of frozen bread dough, you can prepare this recipe without measuring a bit of flour.
They're great with a bowl of soup, or make a wonderful accompaniment to a holiday breakfast of scrambled eggs and fruit salad.
1 loaf frozen bread dough, thawed
4 tablespoon honey mustard
1/2 pound Black Forest deli ham, thickly sliced, then chopped fine
4 ounces Muenster cheese, grated
Roll bread dough on a floured surface into a large (approximately 11x14-inch) rectangle. Spread with honey mustard. Sprinkle chopped ham and grated cheese evenly over the top. Roll up jellyroll fashion and slice into 2-inch rounds. Place rounds in greased muffin tins and let rise in a warm place until doubled, 30 to 45 minutes.
Meanwhile, preheat oven to 375 degrees F. When rolls have risen, bake for 15 to 20 minutes.
Makes 8 to 12 rolls.

Print This Page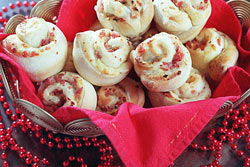 Related Recipe Categories
Breads

| | |
| --- | --- |
| | Karin Calloway is a working mom living in Augusta, Ga., with multiple freelance jobs and a ton of dirty dishes. |