Shrimp Strudel
by
Frozen puff pastry sheets are a boon for busy cooks. From hors d'oeuvres to main dishes to desserts, they take simple ingredients to new heights. My recipe for Shrimp Strudel is a luscious appetizer or first course that can be put together in just a few minutes.
1 sheet puff pastry, thawed completely
2 tablespoons butter or margarine
1 large shallot, peeled and chopped
1 pound medium shrimp, peeled and deveined
2 tablespoons chopped fresh parsley
1 green onion, chopped
1 tablespoon lemon juice
3 ounces cream cheese, softened
2 eggs
1/2 teaspoon Cajun seasoning
1/2 teaspoon Beau Monde seasoning
Preheat oven to 375 degrees F. Melt butter in a sauté pan over medium-high heat. Add chopped shallot and sauté until tender, about 5 minutes. Add shrimp, parsley, and green onion and sauté until shrimp begin turning pink. Remove from heat and add lemon juice, cream cheese, Creole and Beau Monde seasonings, and 1 egg, beaten. Set aside to cool slightly.

Place shrimp mixture down the middle of the pastry. Use a sharp pairing to cut 1-inch wide diagonal strips on both sides of the filling, from the edge of the filling to the edge of the pastry. Pull strips over shrimp mixture, alternating sides, to form a braid design. Beat the remaining egg in a small bowl and brush over the pastry.

Bake for 20 to 25 minutes, until golden. Allow strudel to rest 5 minutes before slicing.

Makes 6 servings.


Print This Page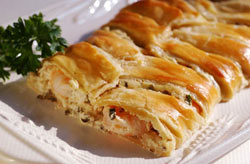 Related Recipe Categories
Appetizers

| | |
| --- | --- |
| | Karin Calloway is a working mom living in Augusta, Ga., with multiple freelance jobs and a ton of dirty dishes. |