Chicken Ravioli with Red Pepper Alfredo Sauce
Handmade ravioli is a favorite first course or entrée in upscale Italian restaurants. And, with some creative uses of convenience products, you can whip up a delicious, elegant "almost homemade" version of your own.

Most supermarkets carry egg roll, wonton and gyoza (pot sticker) wrappers in the produce department, which are a great replacement for homemade pasta sheets. The three can be interchangeable, with the only difference being the shape of your final ravioli. For this recipe, I used a package of round gyoza wrappers. Wonton wrappers are two-inch squares, and egg roll wrappers are larger, four to six-inch squares. Follow the recipe exactly if substituting wonton wrappers.

The large egg roll wrappers can be cut into smaller squares, or can be filled and formed into triangles. Just place some of the chicken filling near one corner of an egg roll sheet, brush with egg wash and seal. Equally simple, the sauce is a combination of jarred Alfredo sauce that is heated with some jarred roasted red bell peppers. I like the texture of diced peppers in the sauce, but a beautiful, flavorful pink sauce can be made pureeing the sauce and peppers with an immersion blender prior to serving.


2 tablespoons olive oil (or 2 tablespoons olive oil and garlic butter spread)
8 ounces fresh mushrooms, cleaned and sliced
2 ounces thinly sliced Prosciutto, chopped
1 pound boneless, skinless chicken breasts or tenderloins, cut into cubes
1/4 cup dry Italian seasoned breadcrumbs
1/4 cup white wine
Freshly ground black pepper, to taste
1 10-ounce package gyoza (pot sticker) wrappers
1 egg, beaten
1 16-ounce jar prepared Alfredo sauce
1/2 cup jarred roasted red bell peppers, diced
Freshly grated Parmesan or Romano cheese, for garnish

Heat 1 tablespoon of olive oil or butter spread in a large skillet over medium-high heat. Add mushrooms and Prosciutto and sauté until mushrooms are golden, about 5 minutes. Remove from skillet and set aside to cool. Add remaining tablespoon of olive oil or butter spread and add chicken, sautéing until chicken is done, about 5 minutes.
Place mushrooms, chicken, breadcrumbs and white wine in the bowl of a food processor fitted with a steel blade. Pulse several times, until chicken and mushrooms are coarsely minced. Place in a bowl and season to taste with freshly ground black pepper.

Fill a large pasta pot or Dutch oven with water and bring to a boil over high heat. Combine Alfredo sauce and diced red bell peppers in a saucepan over medium high heat. Heat, stirring occasionally, until heated through. Do not boil the sauce.

While water is coming to a boil, fill the ravioli. Place one round of pasta on a flat work surface and fill with 1 tablespoon of the chicken filling. Brush around the edges with the beaten egg and top with another round of pasta. Press with your fingers to seal, then crimp with the tines of a fork. Repeat with remaining pasta rounds and filling, placing the filled ravioli on parchment-lined baking sheets.

Boil ravioli in batches for approximately 3 minutes, and then remove to a colander to drain. Serve ravioli in individual pasta bowls and top each with some of the sauce. Sprinkle with cheese and serve.

Makes 4 servings (approximately 6 ravioli per serving).


Print This Page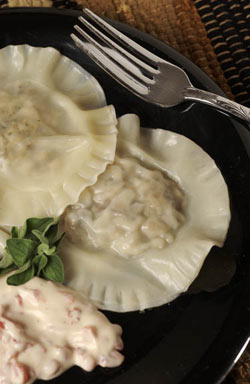 Related Recipe Categories
Main Dishes