Lemon-Feta Chicken
Flavorful meals need not require hours in the kitchen, and this recipe proves the theory. A quick drizzling of olive oil and a sprinkling of sea salt, black pepper and oregano could be all a chicken breast needs before baking. But add some minced garlic, a scattering of crumbled feta and a hefty dose of fresh lemon juice and baked chicken goes over the top.
This dish multiplies beautifully when serving a crowd for a luncheon or dinner, and pairs deliciously with creamed spinach (homemade or from your supermarket's freezer section) and orzo pasta that has been cooked in chicken broth.
4 boneless, skinless chicken breast halves
Sea salt and freshly ground black pepper, to taste
1 tablespoon olive oil
1 teaspoon minced garlic
1/2 teaspoon dried oregano
1 3.5-ounce package reduced-fat crumbled feta cheese
1/2 cup freshly squeezed lemon juice, the juice from approximately 2
3 lemons
Preheat oven to 350 degrees F. Season chicken on both sides with salt and pepper. Combine olive oil and garlic in a small bowl and drizzle over the chicken breasts. Rub oil mixture into each breast and place in a glass baking dish. Sprinkle oregano evenly over each breast, then follow with the crumbled feta cheese. Pour lemon juice over the chicken and bake, uncovered, for 30 minutes.
Makes 4 servings.

Print This Page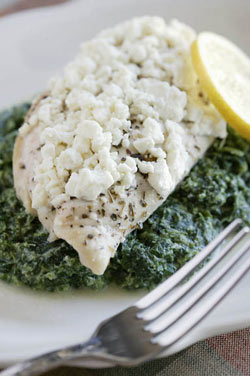 Related Recipe Categories
Main Dishes