Mediterranean Lamb Kebabs
Kebabs are street food in many Middle Eastern countries, but here in the United States, they're often the highlight of backyard cookouts. These kebabs take you on a flavor trip to the Mediterranean. Chunks of lamb are marinated in fresh lemon juice, olive oil, garlic, cumin and oregano, and then are skewered with chunks of red bell pepper and fresh mushrooms.
Serve the kebabs one night as the featured entrée in our Mediterranean Grill menu, and then stuff the leftover lamb and vegetables into pita breads for delicious sandwiches the next day.
3 pounds boneless leg of lamb, trimmed of fat and cut into 1-inch chunks 1/2 cup fresh lemon juice, about 2 large lemons
1 tablespoon olive oil
2 teaspoons minced garlic, about 2 large cloves
1/2 teaspoon ground cumin
1/2 teaspoon dried oregano
Sea salt and freshly ground black pepper to taste
2 large red bell peppers, stemmed, seeded and cut into 1-inch squares
8 ounces fresh mushrooms, cleaned and stems removed
Combine lemon juice, olive oil, garlic, cumin, oregano, salt and pepper in a gallon-sized zip-top plastic bag. Add lamb pieces, seal bag tightly and refrigerate several hours or overnight.
Preheat grill on high for 5 minutes while you prepare the kebabs. Drain marinade from lamb pieces and thread on skewers, alternating with the pepper chunks and mushrooms. Grill 5 to 7 minutes on one side. Turn and grill 5 minutes more. Test with a sharp knife to determine doneness and grill longer, according to preference.
Makes 6 servings

Print This Page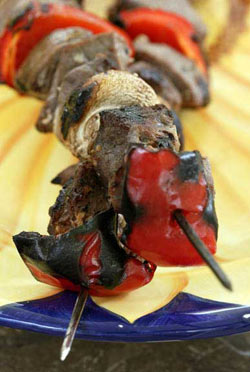 Related Menus
Mediterranean Grill
Related Recipe Categories
Main Dishes