Red-Eye Shrimp and Grits
Fresh seafood abounds all the way up the coast of Georgia and South Carolina. And, from Charleston to Savannah, every restaurant has its own version of Shrimp and Grits.

If you're unfamiliar with grits, the creamy farina-like dish of slow-simmered ground hominy, then the thought of pairing them with a savory seafood sauté might seem a bit odd. But believe me, it's an awesome combination. While the pair is often served for breakfast or brunch in these coastal cities, I prefer to serve Shrimp and Grits as a luscious dinner.

Variations for the shrimp sauté can be as simple as shrimp, butter and garlic, or elaborate preparations with homemade shrimp stock reductions and whipping cream. My version replicates one I've sampled in several restaurants, and includes another Southern tradition, red-eye gravy. Red-eye gravy is simply a combination of country ham drippings and strong coffee. Here, however, sliced fresh mushrooms, green onions, sherry and hot pepper sauce add immense flavor to the dish.

If you're reluctant to try grits, the shrimp sauté may be served over pasta or white rice. A green salad and fresh-baked rolls can complete the meal.
1 recipe cheese grits (see "Hushpuppy Catfish" recipe

1 tablespoon olive oil

4 ounces country ham or other smoked ham, chopped

8 ounces sliced fresh mushrooms

1/2 teaspoon seasoning salt

1/2 teaspoon minced thyme

1/2 cup chopped green onions

2 teaspoons minced garlic

3/4 cup strong coffee

1/4 cup sherry

1 tablespoon cornstarch

1 teaspoon hot pepper sauce

1 pound peeled and deveined medium shrimp

Saute ham in olive oil in a large saucepan over medium high heat until golden. Add mushrooms, seasoning salt and thyme and sauté 3 minutes. Add green onions and sauté 3 minutes more. Stir in garlic and sauté 2 minutes.
Combine coffee, sherry, cornstarch and hot sauce in a small bowl. Set aside.

Stir shrimp into the mushroom mixture. Pour in the coffee mixture and simmer until shrimp are cooked, about 2 minutes.

Makes 4 servings.

Print This Page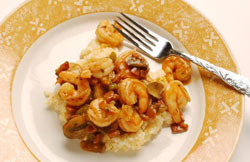 Related Recipe Categories
Main Dishes