Sundried Tomato and Basil Pasta
This quick Sundried Tomato and Basil Pasta is a delicious entrée any time of year. Sautéed, sliced mushrooms, julienned prosciutto, half and half, oil-packed sundried tomatoes, fresh basil and Parmesan cheese coat strands of thick fettuccine in this luscious and colorful combination.

While I love the taste of sundried tomatoes, feel free to substitute diced fresh tomatoes during the summer, when tomatoes are at their peek and the basil bushes are two feet high. Add some crusty bread and a tossed salad for a quick, yet satisfying meal.


1/2 cup oil-packed sundried tomatoes
8 ounces sliced fresh mushrooms
2 teaspoons minced garlic
4 ounces thinly sliced prosciutto, julienned
2 cups half and half
1 bunch fresh basil, washed, dried well and torn into small pieces (about 1 cup packed fresh basil leaves)
Freshly grated Parmesan cheese, to taste
Freshly ground black pepper, to taste
9 ounces refrigerated fettuccine

Bring a large pot of salted water to a boil over medium high heat. Meanwhile, drain oil from 1/2 cup of sundried tomatoes over a large skillet. Set tomatoes aside, and turn heat to medium-high. Add mushrooms and sauté until golden brown, about 5 minutes. Add garlic and prosciutto and sauté 3 minutes more. Add half and half and bring to a boil. Reduce heat, and simmer until reduced by 1/3, about 5 minutes.
While sauce reduces, cook fettuccine in the salted water according to package directions. Drain and add to the skillet with the sauce, tossing gently to coat well. Add reserved tomatoes, basil, Parmesan and black pepper to taste and toss again. Serve immediately.

Makes 4 servings.

Print This Page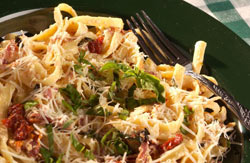 Related Recipe Categories
Main Dishes