Steak Caesar Subs
I absolutely love the combination of hot grilled steak atop crisp, cool Caesar salad. My affection for these dinner-sized salads at chain restaurants led me to create this recipe for Steak Caesar Subs.

Here, Caesar salad garnishes a grilled, marinated tenderloin filet. Most steak sandwiches fall short because tough or fatty cuts of steak, usually strip or rib-eye, are used. Using the tenderloin makes this truly a special sandwich.

The Caesar dressing here is one of my favorites, and is worth whipping up to dress steak-less salads any time. Shaved Parmesan and split, buttered and grilled Kaiser rolls are the finishing touches. Serve your Steak Caesar Subs with gourmet potato chips and a fresh fruit salad for a sub that's a cut above your ordinary sandwich.


2 6-ounce tenderloin filets steaks, about ¾-inch thick
Salt and pepper, to taste
1/4 cup olive oil
1 lemon, juiced
1 clove garlic, minced
1 tablespoon reduced-fat mayonnaise
1 anchovy fillet or ½ teaspoon anchovy paste, optional
6 leaves romaine lettuce, washed, dried and cut into a 1/2-inch chiffonade
2 Kaiser rolls, split
1 tablespoon melted butter
Shaved Parmesan Cheese, for garnish

Preheat range-top or outdoor grill on high for 5 minutes. Season filets with salt and pepper and set aside.
Whisk olive oil, lemon juice, garlic, mayonnaise and anchovy, if desired, together in a small bowl. Season to taste with salt and pepper. Set aside.

Grill filets for 4 to 5 minutes per side, until medium-rare, or cook according to your personal preference. Brush cut side of rolls with butter and grill, until nicely browned, about 2 to 3 minutes.

Place one filet on the bottom half of each roll. Toss the romaine Chiffonade with the dressing and place atop the steak. Top with the shaved Parmesan and the top half of the rolls.

Makes 2 subs.


Print This Page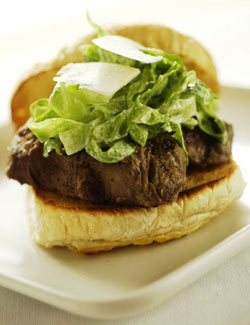 Related Recipe Categories
Main Dishes