Long Noodle Salad
by
Chicken Long Rice, a dish featuring shredded chicken over cooked long rice noodles, and Sunomono, a light cucumber-shrimp salad seasoned with rice vinegar, are popular luau dishes on the Hawaiian islands. I've toyed with the recipes and merged the two, coming up with my Long Noodle Salad.
Like many dishes served in Hawaii, this one has an Asian influence, and is delicious served alongside Kalua Pork and other luau dishes. In Chicken Long Rice, the rice is actually long, fine rice noodles, which can be hard to find in mainland supermarkets. Linguine or angel hair pasta stand in here, and are tossed with a flavorful dressing of rice vinegar, soy sauce, sweet chili-garlic sauce, sesame oil and sugar.
The noodles are topped with long, thin strips of cucumber and carrot, along with slivers of green onion and small cooked salad shrimp. The presentation is beautiful when the sauced noodles are topped with the vegetables and shrimp, but do give the ingredients a toss before serving so that you get a taste of all of the ingredients in each bite.
Slicing the vegetables very thinly doesn't require great knifing skills if you have a mandoline or hand-held julienne grater. Good all-purpose mandolines are available now for around $70, but the French versions are pricier. The hand-held julienne grater represents less of a cash outlay, and this small gadget doesn't require much storage space. The salad can be made the day before serving, allowing time for the flavors to meld. During the hot summer months, the dish would be a welcome cool entrée salad.
1 pound linguine or angel hair pasta
1/3 cup canola or other flavorless cooking oil
1/3 cup rice vinegar
3 tablespoons soy sauce
3 tablespoons sweet chili-garlic sauce
1 tablespoon sesame oil
1 tablespoon granulated sugar
3 green onions, cut into thin strips 3-inches long
1 long hothouse cucumber, washed and cut into long, thin julienne
2 medium carrots, washed, peeled and cut into long, thin julienne
1 cup small cooked shrimp
Cook pasta according to package directions. Drain well and pour into a large bowl. Combine cooking oil, vinegar, soy sauce, sesame oil and sugar in a bowl. Pour half of dressing over pasta, and toss gently to coat evenly. Place on a serving platter and top with vegetables and shrimp, and drizzle with the remaining dressing. Cover and refrigerate until ready to serve. Toss before serving.
Makes 8 to 10 servings.
*Maggi brand sweet chili-garlic sauce was used for testing purposes.

Print This Page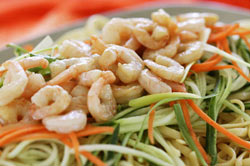 Related Menus
Hawaiian Barbecue
Related Recipe Categories
Vegetables and Sides

| | |
| --- | --- |
| | Karin Calloway is a working mom living in Augusta, Ga., with multiple freelance jobs and a ton of dirty dishes. |