Grandma Dorothy's Easy Coffee Cakes
by
When I was in middle school I spent the weekend with my grandparents in Columbus, Ohio. I was already interested in cooking, and my Grandmother let me help her prepare an easy and delicious coffee cake.

Now I'm sharing Grandma Dorothy's recipe for this simple, sweet coffee cake. It's a recipe I've been preparing for 25 years. As an after-school treat, a not-too-sweet dessert, a welcome gift to new neighbors or an addition to a weekend brunch, it's a recipe that can be whipped up in minutes.

Although my grandmother, now in her eighties, made the coffee cake in a nine-inch square baking dish, I've since prepared it in an eight-inch spring form pan, a standard pie plate, or even as individual coffee cakes in jumbo muffin tins. Served with a glass of milk or a cup of coffee, it's sure to become a family favorite.


2 tablespoons butter or margarine, melted
1/2 cup brown sugar
2 tablespoons flour
2 teaspoons cinnamon
3/4 cup sugar
1/4 cup vegetable oil
1 egg
1/2 cup milk
1 1/2 cups flour
2 teaspoons baking powder
1/2 teaspoon salt

Preheat oven to 350 degrees F on convection bake. In a small bowl combine melted butter or margarine with brown sugar, flour and cinnamon. Set aside.
Cream sugar, oil, egg and milk in a medium bowl. Stir in flour, baking powder and salt. Pour batter into 9-inch square baking dish, 8-inch spring form pan, pie plate or muffin tins that have been sprayed with nonstick cooking spray. Sprinkle cinnamon mixture over top of batter and bake for 20 to 25 minutes.

Makes 8 servings.

Print This Page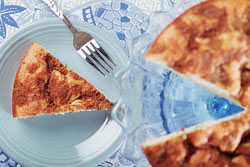 Related Recipe Categories
Desserts

| | |
| --- | --- |
| | Karin Calloway is a working mom living in Augusta, Ga., with multiple freelance jobs and a ton of dirty dishes. |