Sugar and Spice Pecans and Walnuts
by
The perfect cocktail nibble, salad topper and crunchy snack would all aptly describe my recipe for Sugar and Spice Pecans and Walnuts. A quick caramel of sugar and water is flavored with Cajun seasoning and salt before coating a combination of pecan and walnut halves. While I like the combination of two nuts, feel free to use pecans or walnuts alone. And, vary the flavor of the nuts by using other seasoning blends and herb rubs.
The caramelized nuts keep well in a sealed container or zip-top plastic bag for about a week, and are the perfect accent for almost any salad. My favorite way to feature the nuts is in a salad of crisp salad greens and baby spinach leaves tossed with poppy seed dressing, sliced fresh strawberries and mushrooms, chopped green onion and crumbled blue cheese.
1 cup granulated sugar
1/2 cup water
3 teaspoons Cajun seasoning
1/4 teaspoon salt
2 cups pecan and/or walnut halves
Preheat oven to 350 degrees F.
Combine sugar, water, Cajun seasoning and salt in a nonstick skillet over medium heat. Cook until sugar mixture bubbles and begins to turn golden, or until a candy thermometer registers 230 degrees F when inserted in the bubbling mixture. Remove from heat and stir in nuts. Pour onto a parchment paper-lined baking sheet and separate with two forks. Bake for 5 minutes. Cool completely on the baking sheet before storing in an airtight container.
Makes 2 1/2 cups nuts.

Print This Page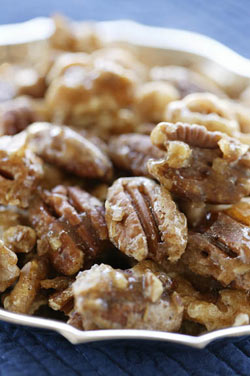 Related Recipe Categories
Desserts

| | |
| --- | --- |
| | Karin Calloway is a working mom living in Augusta, Ga., with multiple freelance jobs and a ton of dirty dishes. |