Spicy Smoked Gazpacho in Cucumber Cups
The Spicy Smoked Gazpacho recipe is fabulous served as an hors d'oeuvre in cucumber cups, but there is plenty left over for the next day. Serve as a light summer lunch by the pool, or as a healthful and delicious first course at dinner. For a refreshing twist on a classic dish, serve as a sauce over grilled fish or chicken. This recipe is even better when made a day ahead.
3 medium ripe red tomatoes, cored and quartered*
1 1/2 cups spicy Bloody Mary mix or Spicy Hot V8® vegetable juice
1 small cucumber, peeled, seeded, and cut in half, divided
1/2 medium roasted red bell pepper**
2 whole green onions, ends trimmed
1 clove garlic, minced
1 1/2 tablespoons balsamic vinegar, or to taste
1 1/2 tablespoons freshly squeezed lime juice (juice of 1 medium lime)
1/2 tablespoon hot pepper sauce, or to taste
1 teaspoon granulated sugar, or to taste
Salt and freshly ground black pepper, to taste
2 long European cucumbers (about 1-inch in diameter)
1 tablespoon chopped fresh flat-leaf parsley, for garnish
Smoking the Tomatoes

Remove the drip tray and food rack from the stovetop smoker. Place 1 teaspoon of chips in the bottom of the smoker, then cover with the drip tray and food rack. Position tomatoes on rack; place over high heat until wisps of smoke appear. Cover with lid, reduce the heat to medium, and let smoke for 10 minutes. Remove from heat, leaving the lid of the smoker closed for 5 minutes; remove tomatoes from smoker.
Gazpacho
Combine smoked tomatoes, Bloody Mary mix, half the cucumber, roasted red pepper, green onions, garlic, vinegar, lime juice, hot pepper sauce, and sugar in the work bowl of a food processor fitted with the metal blade; process until smooth. Taste and adjust the seasoning with vinegar, sugar, salt, and pepper.
Cucumber Cups
Using a citrus stripper (channel knife), create lengthwise stripes along each European cucumber, spacing the cuts about 1/4-inch apart. Cut the cucumber crosswise into 1 3/4-inch pieces; using a small melon baller, form cucumber cups by scooping out the flesh and seeds. Leave 1/2-inch of flesh in the base of each cup and 1/4-inch of flesh around the perimeter.
To Serve
Fill each cup 3/4 full with gazpacho. Cut the remaining half of the cucumber into a tiny dice for garnish. Sprinkle cups with diced cucumber and chopped parsley. Serve immediately. Store the remaining gazpacho in the refrigerator.
*Note: If fresh tomatoes are not in season, substitute 4 cups canned, chopped tomatoes (drained) or 16 fresh, ripe plum tomatoes. Add about 1/4 teaspoon liquid smoke to the gazpacho.
**To Roast Peppers: Char pepper over a gas flame on the stove or under the broiler, turning to ensure the skin blisters evenly. Place blistered pepper in a covered container or in a bowl covered with plastic wrap and cool. When cool enough to handle, peel off the dark skins. Cut pepper in half lengthwise and remove the seeds. Pat dry and set aside until needed. To save time, purchase a jar of roasted red peppers. Drain peppers well and pat dry with paper towels before using.
Make It Ahead: The Gazpacho may be made up to 2 days in advance; taste and adjust the seasoning before serving. The cucumber cups may be made up to 4 hours in advance; cover with damp paper towels and store, tightly covered, in the refrigerator.
Make It Quicker and Easier: Omit the cucumber cups, and serve the gazpacho in demitasse cups. Also delicious served in a soup bowl as a light lunch or summer dinner.
Makes about 12 cups

Print This Page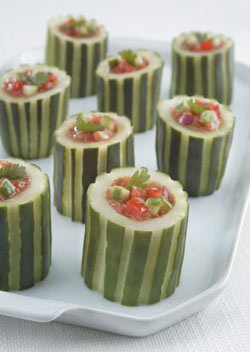 Related Recipe Categories
Appetizers
Viking Cooking School Recipes