Strawberry Souffle

Molds
3 tablespoons unsalted butter, brought to room temperature
1/4 cup granulated sugar
Liberally grease eight 6-ounce ramekins with butter; sprinkle sugar into the buttered ramekins and tap out the excess. Place in refrigerator to chill for at least 10 minutes.
Soufflé Base
2 cups whole milk
1/4 cup cornstarch
1 tablespoon granulated sugar
Pinch salt
3 large egg yolks (reserve whites for soufflés)
2 teaspoons vanilla extract
11/2 tablespoons cold unsalted butter, cut into pieces
1 (13-ounce) jar of seedless strawberry jam

3 tablespoons Chambord (raspberry liqueur)
Whisk cornstarch, sugar, and salt in a medium mixing bowl. Add egg yolks and whisk to combine. Heat milk in a medium saucepan over medium-high heat; bring to a boil. Pour half of the hot milk into the egg mixture to temper, whisking constantly to combine.
Pour tempered egg mixture back into saucepan and place over medium-high heat; bring mixture to a boil, whisking constantly and vigorously until thickened and pulling away from the sides of the pan, about 2 to 3 minutes. Remove from heat.
Whisk vanilla and butter into custard until completely smooth; strain through a coarse sieve into a clean bowl. This is your soufflé base; cool to room temperature in an ice water bath, stirring frequently to facilitate cooling. Cover the surface of the custard with plastic wrap when not stirring to prevent a skin from forming.
Whisk the strawberry jam and liqueur together. Stir the strawberry mixture into the cooled base to combine.
Soufflés
5 large egg whites, brought to room temperature
1/8 teaspoon cream of tartar
1 tablespoons granulated sugar
confectioners' sugar, for garnish
1 recipe Ghirardelli Chocolate Sauce
Preheat oven to 400 degrees F. In an electric stand mixer fitted with the whisk attachment, whisk the egg whites on medium speed until foamy. With the motor running, slowly add cream of tartar and sugar, beating until glossy with medium peaks; do not over-mix.
Whisk 1/3 of the whites into the base to lighten, then gently fold 1/2 the remaining whites into the base until just combined. Fold in remaining whites, being very careful to not deflate.
Spoon soufflé mixture into prepared ramekins; tap soufflés down on the counter and level the tops with a spatula. Run your index finger around the perimeter of the dish to create a 1/2-inch border; this will help the soufflés rise properly. Wipe top rim of ramekins with a wet paper towel, then place on a baking sheet.
Adjust oven rack to the lower third of the oven. Bake soufflés until the surface is deep brown in color and the center jiggles slightly when shaken, about 15 to 18 minutes.
To serve, dust the soufflés with confectioners' sugar. If desired, crash a spoon through the center of each soufflé and fill with one tablespoonful of Ghiradelli Chocolate Sauce; serve immediately.
Makes 12 individual soufflés.
Make It Ahead: Make recipe through Step 7. Wrap ramekins in aluminum foil and freeze for up to 2 months. To bake soufflés, remove foil and cook at 375°F until puffy and deeply browned, about 30 to 35 minutes; serve immediately. (Note: Do not thaw before baking.)

Print This Page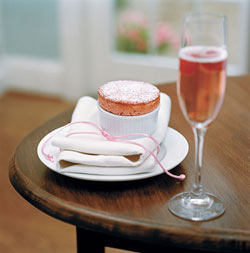 Related Recipe Categories
Desserts
Viking Cooking School Recipes