Lemon Semolina Muffins
Muffins
8 ounces butter, soft
11 ounces sugar
3 eggs
2 Tablespoons lemon zest
1 teaspoon vanilla
12 ounces sour cream
7 ounces cake flour
5 ounces Semolina
1/2 teaspoon salt
1 teaspoon baking soda
Syrup


3 ounces lemon juice
3 ounces water

2 ounces sugar
Preheat oven to 325 degrees F. Sift cake flour and stir together with semolina, salt, and baking soda. Place soft butter, sugar, zest, and vanilla in a mixing bowl and whip to combine. Slowly add eggs, until mixture is smooth.
Alternate adding dry ingredients and sour cream to the egg mixture until just combined. Scoop mixture into muffin cups and bake 18 to 20 minutes or until golden brown and a toothpick comes out clean.
While the muffins are baking, combine the lemon juice, water, and sugar in a saucepan, bring to a boil, and reserve. As soon as the muffins are removed from the oven, add approximately 1/2 teaspoon of syrup to each muffin.
When the muffins are cool, make a glaze by stirring 8 heaping tablespoons of powdered sugar and a pinch of lemon zest into 2 teaspoons of hot syrup. Glaze lightly.
Yields 16 muffins

Print This Page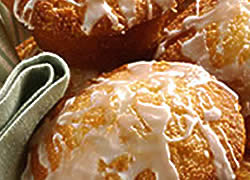 Related Recipe Categories
Desserts
The Culinary Institute of America