Eggnog French Toast with Quick Blueberry Sauce
by
2 eggs
1 pinch salt
2 cups eggnog
8 slices Brioche or bakery challah, 3/4-in. thick, or another soft yellow bread
1/2 cup maple syrup
2 tablespoons water
1/2 pint blueberries (or 1 cup cranberries)
1/2 cup sour cream
In a medium bowl, whisk eggs. Then whisk in salt and eggnog. Pour mixture into a shallow baking dish. Working in batches if necessary, place the bread in the dish and let soak a few minutes, then turn and soak on the other side. Cook soaked bread on a grill or buttered griddle until golden brown, then turn and repeat on the other side.
For the blueberry sauce, in a sauté pan add maple syrup and water and bring to a boil. Add blueberries and cook until they start to burst and break down.
Pour cooked mixture into a blender and whiz it to make a sauce or just mash it with the back of a fork. Keep warm and pour the sauce over the French toast, then top with dollops of sour cream.
Yield: 4-6 servings

Print This Page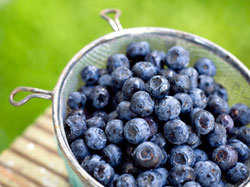 Related Recipe Categories
Breakfast and Brunch

Gale Gand is the executive pastry chef at Cenitare Restaurants. Outside her culinary endeavors, Gale is an established author publishing six books with her most recent book, "

Chocolate and Vanilla

," published in October 2006.