Mushroom Risotto in Roasted Acorn Squash Bowls
by
Mushrooms are a great substitute for meat because of their earthy flavor and meaty texture. And if you serve a good mushroom risotto, even the most ardent carnivore won't miss the meat.
This special risotto is served in roasted acorn squash bowls for the perfect fall entrée that's flavorful, colorful and beautifully presented. A drizzle of white truffle oil makes the risotto extra scrumptious and it can be found in gourmet shops or online.
Roasted Acorn Squash Bowls
3 acorn squash
3 tablespoons unsalted butter, melted
Sea salt

Preheat oven to 425 degrees F. Cut squash in half lengthwise and scoop out seeds. Line a baking pan with parchment paper. Place squash halves on baking sheet and brush insides with butter. Sprinkle with salt.
Roast for about 1 hour, until browned and tender when pierced with a fork. Set aside and keep warm until risotto is ready.
Risotto
2 tablespoons olive oil
6 tablespoons unsalted butter, divided
1 pound mixed mushrooms, trimmed, cleaned and sliced
Sea salt and freshly ground black pepper
1 medium onion, very finely chopped
1 teaspoon minced garlic
3 cups Arborio rice
1 cup dry white wine
8 cups reduced-sodium chicken or vegetable broth
1 cup freshly grated Parmigiano-Reggiano cheese
1 teaspoon white truffle oil, optional

Heat oil and 2 tablespoons of butter in a large sauté pan over medium-high heat. Add mushrooms and cook until they begin to release their juices, about 4 minutes. Season with a pinch of sea salt and sauté until juices are released again. Continue sautéing until juices evaporate and mushrooms are golden brown. Taste and add more salt and freshly ground black pepper, as needed. Remove pan from heat and set aside.
Melt 2 tablespoons of butter in a 4-quart saucepan over medium-low heat. Add onions and a pinch of salt and cook until softened, about 4 minutes. Add garlic and sauté for 1 minute. Add rice and stir to coat with butter. Add wine and continue to cook, stirring, until the rice has absorbed the wine. While onion is cooking, bring broth to a simmer in a saucepan.
Once the wine has reduced, add 1 cup of chicken stock to the rice, stirring constantly. Once the rice has absorbed the stock, add another cup. Repeat the process with remaining stock, stirring constantly. When all of the 6 cups of the broth has been absorbed, taste a grain of rice for doneness. If it is creamy but firm, reserve the remaining broth for another use and fold in the mushrooms. If the risotto is not done to your liking, add the remaining broth one cup at a time, tasting once the broth has been absorbed. When the risotto is creamy, stir in the mushrooms.
Remove from heat and stir in remaining 2 tablespoons of butter, Parmigiano-Reggiano and truffle oil. Season to taste with salt and pepper. Place each of the roasted squash halves on a dinner plate and spoon the risotto into the squash. Serve immediately.
Makes 6 servings.

Print This Page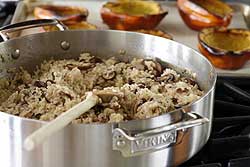 Related Menus
Flavors of Fall
Related Recipe Categories
Main Dishes

| | |
| --- | --- |
| | Karin Calloway is a working mom living in Augusta, Ga., with multiple freelance jobs and a ton of dirty dishes. |