Pork Tenderloin
No time to marinate or brine? This simple pork tenderloin recipe only needs a quick flavor rub, which you can massage into the pork while you fire up your C4.
1 teaspoon seasoned salt
1 teaspoon dried thyme
2 pork tenderloins, 1 1/2 to 2 pounds total, well trimmed
1/2 cup peach preserves
2 teaspoons Worcestershire sauce
1/2 teaspoon ground ginger
Season the pork tenderloins with the seasoned salt and thyme and set aside while you heat your C4.
Preheat C4 to 350ºF. Place rack in C4, add pork tenderloins and close dome. Close the top damper almost completely and the bottom damper half way.
While the tenderloins cook, combine the preserves,Worcestershire and ginger in a bowl. After the tenderloins have grilled for 30 minutes, open the dome, turn tenderloins and brush liberally with the glaze. Close dome and grill for 15 minutes more, or until internal temperature of 145ºF is reached. (The remaining glaze may be brought to a boil in a saucepan over medium high heat and served alongside the cooked tenderloins.) Set tenderloins aside for 10 minutes, (they will increase in temperature to 150 to 155ºF). Slice and serve with the warmed glaze, if desired.
Makes 4 to 6 servings

Print This Page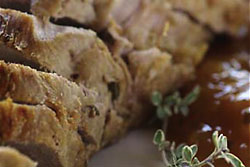 Related Recipe Categories
Main Dishes
C4 Outdoor Cooker Cookbook