Smoked Sausage
Even though the recipe calls for a dozen links of sausage, you can smoke up as few sausages as you like. However, smoked sausage hot off your C4 makes a great appetizer, cut into 1-inch cubes and skewered with wooden picks. Leftovers are delicious when added to your favorite Jambalaya recipe. Use uncooked sweet or hot Italian or Cajun sausages, bratwursts or your favorite big country sausage links.
1 dozen uncooked sausages, 4 to 6 ounces each
1 handful hickory, oak or pecan chunks
Water
Place sausages on a platter or baking sheet and set aside to bring to room temperature. Place wood chunks in a bowl, cover with water and set aside to soak.
Preheat C4 to 200-220ºF. Drain the wood chips and sprinkle a few chunks over the hot coals. Place rack in C4. Add the sausages, close the dome and close the top damper almost completely and bottom damper halfway. Smoke for 1 to 2 hours, depending on the size of the sausages, adding additional chunks and turning the sausages every 30 minutes. Sausages are done when skin is tight but links still look juicy.
Makes 12 sausages

Print This Page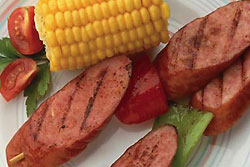 Related Recipe Categories
Unlinked
C4 Outdoor Cooker Cookbook