Jerk Pork and Pineapple Kabobs
by
Crank up the reggae, heat up the grill and don your best Caribbean accent. Then grill up some delicious Jerk Pork and Pineapple Kabobs. The music and the kabobs are a recipe for summer fun. While seasoning pork or chicken with jerk seasoning is nothing new, marinating pork cubes in a well-spiced jerk marinade and skewering the meat along with fresh pineapple is a great way to enjoy this flavorful favorite.
The spice paste here is one that will please the whole family. Use a Scotch bonnet pepper if you like things hot, or use a jalapeno for a version that will please the kids. Grill the kabobs and serve with Black Bean and Yellow Rice Salads (recipes posted on this site) or atop your favorite packaged yellow rice mix.
3 green onions, coarsely chopped
1 clove garlic, minced, about 1 teaspoon
2 teaspoons peeled and diced fresh ginger
½ jalapeno or Scotch bonnet pepper, stem and seeds removed, chopped
2 tablespoons jerk seasoning (see below)
½ teaspoon sea salt
2 tablespoons brown sugar
2 tablespoons vegetable or olive oil
2 tablespoons soy sauce
1 package pork tenderloins (2 tenderloins per package), cleaned and cut into 1-inch cubes
1 cup fresh pineapple chunks
Metal or Bamboo skewers
Combine green onions, garlic, ginger, jalapeno or Scotch bonnet pepper, salt, brown sugar, oil and soy sauce in a food processor fitted with a steel blade or blender. Pulse until mixture forms a paste. Pour into a gallon-sized zip-top plastic bag. Add pork tenderloin pieces and marinate 1 hour to overnight.
Heat grill on high. Thread marinated pork on skewers alternating with pineapple chunks. Reduce grill heat to medium-high and grill kabobs approximately 5 minutes per side, until pork is done.
Makes 6 servings
Jerk Seasoning
2 teaspoons dried thyme
2 teaspoons ground allspice
2 teaspoons ground black pepper
1/2 teaspoon ground cinnamon
1/2 teaspoon cayenne pepper
1/2 teaspoon salt
Makes about 3 tablespoons

Print This Page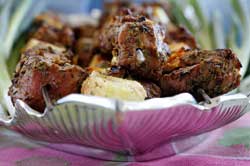 Related Menus
Put on Some Reggae Music
Related Recipe Categories
Main Dishes

| | |
| --- | --- |
| | Karin Calloway is a working mom living in Augusta, Ga., with multiple freelance jobs and a ton of dirty dishes. |