Thai Marinated Shrimp
by
Marinated shrimp is a cocktail party favorite, and this recipe takes a Thai twist for a recipe that's sure to be a hit at your next get together. Having your fish monger steam the shrimp will save you time in the kitchen. The salad is also delicious made with grilled shrimp. Turn the leftover shrimp into an entrée salad, serving the shrimp atop shredded lettuce and cabbage and thinly sliced cucumbers.
2 pounds steamed large peeled and deveined shrimp
1/3 cup fresh lime juice
2 tablespoons Asian fish sauce
2 tablespoons canola oil
2 tablespoons agave nectar or honey
2 teaspoons minced garlic, about 2-3 large 3 cloves
1 jalapeno, seeded and finely chopped
1/4 cup chopped fresh cilantro, for serving
1/4 cup chopped fresh basil leaves, for serving
1/4 cup chopped fresh mint leaves, for serving
Place cooked shrimp, fish sauce, oil, agave nectar, garlic and jalapeno in a large bowl. Toss well. Taste and add salt, if needed. Cover and refrigerate until ready to serve, up to one day ahead. Stir in the fresh herbs just before serving.
Makes 6-8 appetizer servings.

Print This Page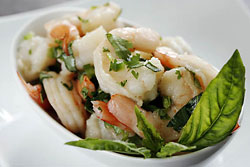 Related Menus
Thai Appetizers
Related Recipe Categories
Appetizers

| | |
| --- | --- |
| | Karin Calloway is a working mom living in Augusta, Ga., with multiple freelance jobs and a ton of dirty dishes. |