Roasted Vegetable and Boursin Canapés
These are flaky phyllo cups filled with savory Mediterranean vegetable and Boursin, which is a triple-cream cheese blended with garlic, herbs and spices.
1 small red bell pepper, finely diced
1 small red onion, finely diced
1 small eggplant, unpeeled, cut into 1/4-inch cubes
1 medium zucchini, cut into 1/4-inch cubes
2 tablespoons basil olive oil
2 tablespoons garlic olive oil
Salt and freshly ground black pepper, to taste
30 frozen minature phyllo tart shells,* (2 packages)
1 (5-ounce) package Boursin cheese
8 to 10 fresh basil leaves, cut into chiffonade, for garnish
Preheat oven to 400 degrees F. Combine bell pepper, onion, eggplant and zucchini in a large roasting pan. Drizzle with olive oils, and toss to coat; season with salt and pepper. Roast vegetables until tender and golden brown, about 20 minutes.
Place phyllo cups on a baking sheet. Spoon 1 teaspoon of Boursin cheese into each cup. Top with a generous spoonful of roasted vegetables. Place in preheated oven, and cook until shells are light golden brown, about 8 to 10 minutes. Garnish with fresh basil, and serve warm or at room temperature.
Tips and Techniques
* Phyllo shells are best used while still frozen.
Makes 30 canapés


Exclusive recipes provided by Viking Cooking School.

Print This Page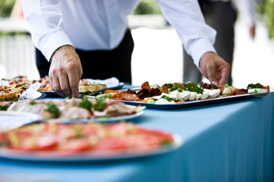 Related Menus
Champagne Cocktail Party

Best of Class: Cocktail Party
Related Recipe Categories
Appetizers
Viking Cooking School Recipes
Viking Owner's Exclusives