Pumpkin Seed-Crusted Pork Tenderloin
3 (1-pound) pork tenderloins
1 1/4 cups toasted and hulled pumpkin seeds (pepitas)**
3/4 cup Japanese breadcrumbs (panko)
2 1/2 teaspoons salt, or to taste, divided
2 1/2 teaspoons freshly ground black pepper, or to taste, divided
1 tablespoon chopped fresh sage
1 cup all-purpose flour
2 large eggs, beaten
4 tablespoons water
Canola oil, for pan-frying
1. Preheat the oven to 350ºF. Trim 1. the tenderloins, removing all excess fat and silverskin.
2. In a food processor, pulse the pumpkin seeds, breadcrumbs, 1 teaspoon of salt, 1 teaspoon of pepper and the sage. Do not pulse to a powder; the mixture should have some texture.
3. Season the flour with the remaining salt and freshly ground black pepper. Whisk together the eggs and water to make an egg wash.
4. Dredge the tenderloins in the seasoned flour, then dip into the egg wash, shaking off all excess. Immediately roll in the pumpkin seed mixture, thoroughly coating all sides.
5. Heat a large sauté pan over medium heat; add 1/4-inch of oil and heat through.
6. When the oil is hot, carefully lower the crusted tenderloins down into the hot oil. Cook until golden brown on all sides, being careful not to disturb the crust. Place on a parchment-lined baking sheet, and cook in the oven until an instant-read thermometer registers 140ºF for medium-rare and 150ºF for medium, about 15 to 18 minutes.
7. Transfer the tenderloins to a carving board; let rest for 5 to 10 minutes before slicing.
8. Slice the tenderloins on the bias into 1/2-inch thick medallions. Serve hot, cold or at room temperature with Cranberry-Apple Chutney (recipe follows).
Tips and Techniques
* This recipe doubles beautifully.
** Pepitas are pumpkin seeds used often in Mexican cooking; they are available for purchase at specialty and/or ethnic markets or online at myspicer.com. If you prefer, you may toast and hull the pumpkin seeds yourself (recipe follows).
Serves 8*


Bonus Recipe:
Pepitas
These edible pumpkin seeds are a popular ingredient in Mexican and Southwestern cooking. The white seed hull is removed to reveal the delicate green seed inside. When toasted and lightly salted, pepitas make a great
snack or crunchy garnish.
1 cup pumpkin seeds, scooped from a fresh pumpkin
1 tablespoon canola oil
Salt, to taste
1. Rinse the seeds, removing all of the pulp, strings and fibrous matter. Spread the seeds in a single layer on a large parchment-lined baking sheet; air-dry for about 4 hours.
2. Preheat the oven to 375ºF. Place the seeds in a large bowl, then toss with the oil and salt. Return to the lined baking sheet, arranging in a single, even layer; roast until light golden brown, about 15 to 20 minutes.
3. Cool, then hull as you would sunflower seeds.
Makes 1 cup
Exclusive recipes provided by Viking Cooking School.

Print This Page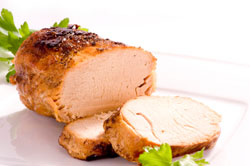 Related Menus
The Great Pumpkin

Related Recipe Categories
Main Dishes
Viking Cooking School Recipes
Viking Owner's Exclusives