Grilled Caesar Salad
by
If you own a Viking outdoor grill you've probably grilled your share of steaks, chicken, burgers and baby back ribs. But did you know you could grill your salad, too? This Grilled Caesar Salad is absolutely delicious, so give it a try soon.
Hearts of romaine are brushed with a flavorful Caesar dressing, and then they hit the grill for a few minutes to char and wilt the lettuce slightly. If you're in a hurry, skip the homemade dressing and use your favorite bottled Caesar dressing. Just avoid a creamy version and opt for olive oil-based Caesar vinaigrette. Use your vegetable peeler to peel big shards of Parmesan to garnish your salad.
1 16-ounce package hearts of romaine (3 hearts), outer leaves removed, core end left intact
1 2-ounce can anchovy fillets, drained
1 teaspoon minced garlic, about 1 large clove
3 tablespoons extra virgin olive oil
Juice of 1/2 lemon
Sea salt and freshly ground black pepper, to taste
Freshly grated parmesan or Romano cheese, for garnish
Pre-heat grill to medium high. Mash anchovy fillets into a paste. Place in a bowl and add the garlic, lemon juice, olive oil and chopped basil. Taste and add salt and pepper as needed. Whisk well to combine.
Cut the hearts of romaine in half lengthwise through the core end, keeping the leaves attached to each core half. Brush the dressing onto the cut side of each romaine half then turn over and brush the other side, using all of the dressing.
Place the romaine halves, cut side down, on the preheated grill and cook for 3-4 minutes. Carefully turn and grill an additional 3 minutes on the other side. Remove from the grill and sprinkle with the parmesan cheese and serve immediately.
Makes 6-8 servings.

Print This Page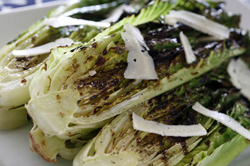 Related Menus
Italian Inspired Cocktail Party
Related Recipe Categories
Vegetables and Sides

| | |
| --- | --- |
| | Karin Calloway is a working mom living in Augusta, Ga., with multiple freelance jobs and a ton of dirty dishes. |