Autumn Italian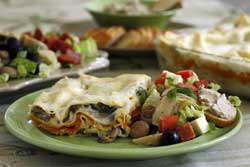 by Karin Calloway
The fall colors signal changes outdoors, but the change can be seen indoors as well. Dinner party fare becomes heartier, with more of the cooking done inside instead of on the grill.
This month's Autumn Italian menu is a make-ahead meal with the flavors of fall. An Antipasto Salad is tossed with Lemon-White Balsamic Vinaigrette that is served with thin baguette rounds spread with buttery Tuna-Caper Spread. Autumn lasagna is a rich dish which takes on the fall colors with a layer of winter squash. Cool Coffee-Toffee Tortoni are a twist on one of Italy's well-known frozen desserts.
Make the Tuna-Caper Spread, vinaigrette, lasagna and tortoni the day before your party and your work as host or hostess will be about as no-fuss as it gets.
Recipes: