Catfish Fry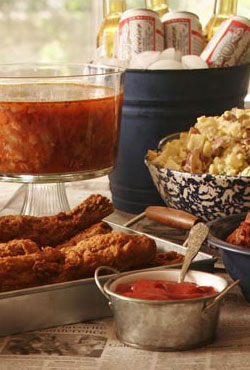 by Karin Calloway
Gathering friends and family for an impromptu backyard cookout is a fun and spontaneous way to entertain. And while throwing some burgers, hot dogs, ribs or chicken on the grill is common, spreading newspapers on the picnic table and calling friends together for a fish fry is a fun and easy way to feed a crowd.
U.S. Farm-Raised catfish has made the fish fry accessible to non-fishermen, and with the help of my Viking Outdoor Gas Grill with 15,000 BTU side burners, I no longer need to pull out the freestanding propane cooker to fry the fish.
While the fish fries on one burner, another perennial fish-fry favorite, Catfish Stew, cooks on the second burner. When all the fish is fried, I cook up some Southern Hushpuppies in the hot oil, and serve my Old Fashioned Potato Salad with Bacon and coleslaw alongside. You can pick up some coleslaw from your favorite deli, or try one of the recipes posted on this site. You'll find recipes for Corny Coleslaw and Gingered Summer Squash Slaw posted among the vegetables and side dishes.
Fruit cobbler is a fitting, casual dessert, and my Peach Cobbler Bars are crowd-pleasing treats that start with a French vanilla cake mix and prepared pie filling. Some hand-cranked vanilla ice cream (or store bought ice cream) would be delicious served alongside the bars.
Recipes:
Catfish Stew
I've sampled fish stews up and down the Southeastern coast at seafood restaurants and family fish fries and the aromatic combination of onions, tomatoes, potatoes and fresh fish is as comforting to me as Grandma's vegetable soup.More.
Peach Cobbler Bars
Cobbler is a homey, comforting dessert that highlights in-season fruits, and I've come up with a way to make it portable in my Peach Cobbler Bars. The recipe is extremely simple, as it starts with two convenience products: packaged cake mix and canned pie filling.More.
Old Fashioned Potato Salad with Bacon
Potato salad is ever present at picnics, potlucks and fish fries, and one of my favorite versions is Old Fashioned Potato Salad with Bacon.More.