Planning and Design Resources | Featured Designer
Ariane Delafosse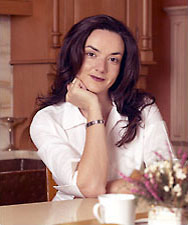 Ariane Delafosse is a Certified Kitchen Designer whose European footings have given her an appreciation for functional design and innovative solutions. In one of her most recent creations, Ariane designed a classic space for a client with a passion for cooking. Her clients, Rhonda and Marvin Wyche, knew what they wanted and had already selected Viking as their appliance brand for their new kitchen design.
Ariane has brought to life countless breathtaking kitchens, luxury wardrobes, distinguished libraries and awe-inspiring home theaters. As part of the Canterbury Design team in Morristown, recipient of a 2005 Viking Kitchen Design Award, and active member of her Kitchen and Bath Association, Ariane has been making her mark in this profession and looks forward to continuing along this path for years to come.
For more about Ariane, visit her www.canterburydesign.com – or download a PDF of her story here.
See more of Ariane's photos.