Planning and Design Resources | Featured Designer
Brian Zars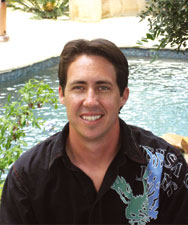 "San Antonio is a very family-oriented city, so I knew that outdoor kitchens would fit in well with the kinds of projects my father's swimming pool company was designing and building. A lot of people installing pools and spas are also looking for custom outdoor kitchens," says Keith Zars.
"I knew I wanted to focus on one high-end outdoor kitchen line that I could believe in and stand behind. That was Viking," he says. "Viking offered not only high-quality appliances, but they were made in the USA, and the depth of the product line was extraordinary. For our customers the design aspects of the pool design are very important, and they feel the same way about their outdoor kitchens. Viking is both high-tech and visually stunning."
In addition to increasing property values, Zars says outdoor kitchens help promote a healthy lifestyle. He suggests that having an outdoor kitchen creates opportunities for parents to let their children play outside in the fresh air. He also says vegetables retain more nutrients if they're grilled rather than boiled or steamed, noting that, "kids really like the flavor of grilled vegetables, too."
"Cooking outdoors also provides a great form of creative release," says Zars. "Especially if you know how to use all the features a Viking grill provides. A lot of people are attracted to Viking products because of the name or the way the products look, but there are lots of ways to grow and learn when you own Viking products," he says.
For more information about Brian Zars, visit
www.keithzarspools.com
- or download a PDF of his story
here
.
See more of Brian's
photos
.