Planning and Design Resources | Featured Designer
Liz Light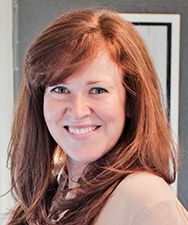 Liz Light as the March Designer of Distinction, the principal designer at Liz Light Interiors LLC based in San Antonio, Texas, is the March Designer of Distinction in the 2015 Viking Kitchen Design Competition.

With 14 years of design experience, Liz's work is making waves throughout South Texas. Her portfolio includes everything from contemporary & eclectic to traditional & rustic. Her work has been featured on Houzz, various design magazines and an upcoming network television series due to air this summer. When she's not busy running around to job sites, she can be found checking out the local farmers market, testing recipes in her kitchen, or volunteering with her church.

The March winning kitchen design is located at the Espinoza Residence in Garden Ridge, Texas, on the outskirts of San Antonio. The goal of the project was to give the family of five a super functional modern kitchen that flowed effortlessly and would be comfortable for quiet family dinners as well as larger gatherings.

"Viking appliances were chosen because this family wanted professional quality appliances that work as good as they look, said Liz Light, "They love to entertain so the side by side fridge/freezer was a must to keep all their necessities on hand (as well as hold the equivalent of half a cow at any given time because they own a cattle ranch!) and double dishwashers come in handy when entertaining."

In addition to the Viking appliances, other special features of the design include natural stone elements throughout the home along with stained cabinetry; 12" x 24" vein cut limestone for the kitchen floor tile and a textured mosaic backsplash in the same hue. The substantial island serves as a visual architectural element in the space as well as a resting spot for the children who like to help mom with baking projects.

"The Espinoza family now has a kitchen which is highly functional and family friendly, "said Liz Light. "With this new design, the family now has a kitchen full of subtle texture and exquisite details that is a true reflection of their understated sophistication."