Planning and Design Resources | Featured Designer
Susan & Armand Rocco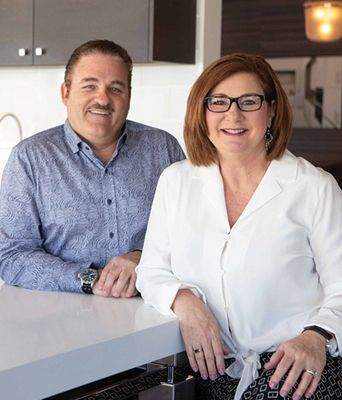 Viking Range, LLC, the leader in residential kitchen technology, has named Susan and Armand Rocco as 2021 Designers of Distinction. Susan and Armand are the founders of The Kitchenworks Inc. Designers from around the United States are vying for the coveted honor to become the 2021 Viking Designer of the Year.
Susan and Armand describes the project below:
The home is a vintage gem, a stately 1920's abode designed by a celebrated local architect of the times. The rooms flow into one another, each piecing snapshots of days past, reminders of old Florida living. So when it came time to update the kitchen, the homeowners were certain from the beginning that paramount to the design would be a vintage ethos. For that classic glamour, a black and white palette was the basis of the design. Fortunately, function was not sacrificed in this pursuit thanks to Viking's line of black appliances which heightened the stylistic effect. Unlike scenarios where designers are fighting the visual presence of the appliances by paneling, this line was indispensable in accompanying this showstopping kitchen. The black appliances hold their own presence and become points of interest, balancing the black and white composition. All stainless appliances or paneled would not yield the results achieved. They make for one satisfactory remodel, that is every bit as refreshing and unique as nostalgic.
THE KITCHENWORKS STORY
Founded in 1989 by Susan and Armand Rocco, The Kitchenworks Inc. has become recognized for its excellence in Kitchen and Bath Design and Fabrication throughout South Florida.
Over the past 32 years we have had the privilege of designing and building kitchens, baths, bars, entertainment centers, libraries, laundry rooms, and so much more for clients all across South Florida and the United States. In addition to residential appliance needs, we also specialize in appointing the perfect appliances for yachts. Our knowledgeable staff pays special attention to guarantee the perfect fit and finish.
Our strength is placing within the reach of our clients excellent design work and products of renown quality. We provide a showroom where our clients can fully participate in the design process, tailoring the end product to their personal taste, ever mindful of maximizing function. We do our utmost to maintain excellence throughout the course of a project and to finish with our clients feeling happy and excited with the results. We pride ourselves on the attention to detail that we give to every project.