Planning and Design Resources | Featured Designer
Heather Zerah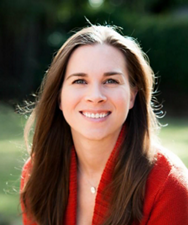 Viking Range, LLC, the leader in residential kitchen technology, has named Heather Zerah as the October Designer of Distinction. Heather is the founder and principal designer at Heather Zerah Interiors in Walnut Creek, California and is the tenth monthly winner in the 2017 Viking Kitchen Design Competition. Designers from around the United States are vying for the coveted honor to become the 2017 Viking Designer of the Year.
Heather describes the project below:
Nestled in the hills of Northern California, this gorgeous kitchen serves as the prime spot for a former restaurateur and mother-of-three to gather her children and friends. Upon returning to the Bay Area after several years in France, the client gutted the existing structure down to the frame and transformed it into the home of her dreams. The result is an open plan that is light and airy, while also cozy and inviting. From the hand crafted brick tile lining the walls, to the custom concrete countertops poured on-site, every detail was carefully selected to fit the client's unique style. The Viking appliances featured in this kitchen include a 48" gas range, stainless steel backguard and hood, 48" refrigerator, dishwasher, and microwave drawer.
More about Heather Zerah and Heather Zerah Interiors:
Heather Zerah began her design career in New York City after graduating from Pratt Institute with a Master's Degree in Interior Design. There she honed her skills while working on apartments and townhouses in Manhattan and Brooklyn, as well as vacation homes up and down the East Coast. Upon returning to her roots in Northern California, Heather opened her own design firm, Heather Zerah Interiors. Heather believes that efficiency, communication, and attention to budget are paramount to a successful collaboration. However, it is the friendships she develops with her clients that truly enable her to understand each individual's style and needs. Whether it be a small bathroom renovation or the development of an entire estate, she strives to bring elegance, functionality, and durability to every design.
Photo Credit: Frederic Zerah