Freestanding Gas Range Recall (certain VGIC, VGCC, and VGSC Models)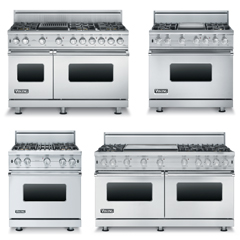 CPSC Press Release
Health Canada Press Release
Viking Range, LLC, in cooperation with the U.S. Consumer Product Safety Commission and Health Canada, is conducting a voluntary recall of certain Viking and Viking (Canada) freestanding gas ranges.
There have been 75 reports of gas ranges turning on by themselves with three reports of minor burn injuries and four reports of minor property damage resulting in one payment of $850.
The failure is caused when liquid seeps into the control panel area. You may continue to use your range; however, caution must be used when cooking or cleaning the surface area to ensure no liquid is allowed behind the control panel and landing ledge. If liquid does get into this area or if the unit turns on by itself, stop using the product immediately and turn off the breaker to the product. Do not attempt to use the product again until the repair has been completed.
If you own a Viking freestanding gas range and suspect that your unit is affected by this recall or are unsure if your model is affected, please locate the model and serial number on your range and enter it into the form below. Once you submit your information, you will be prompted as to whether or not your range is affected. If you own an affected product, instructions regarding the next steps will be included.
Learn More.