Freestanding Gas Range Tubing Recall (certain VGR and VGIC Models)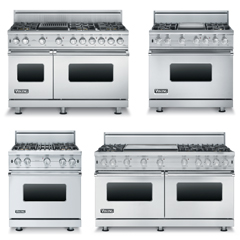 CPSC PRESS RELEASE
RECALL DETAILS
CPSC FAQS
Viking Range, LLC, in cooperation with the U.S. Consumer Product Safety Commission, is conducting a voluntary recall of certain Viking 5 Series freestanding gas ranges manufactured between August 10, 2021 and December 1, 2021.
Viking has determined that certain rigid gas tubing, which is used in the manufacture of the ranges and supplies the bake, broil, and griddle functions, can separate at the joint of the gas tubing and hex fitting posing the risk of a gas leak and fire hazard when these burners are in operation.
You should immediately stop using the bake, broil, and/or griddle functions of your range. You may continue to use the top surface burners of your range. Surface burners are those covered by the cooking grates on the top surface of the range. The griddle and ovens should not be operated.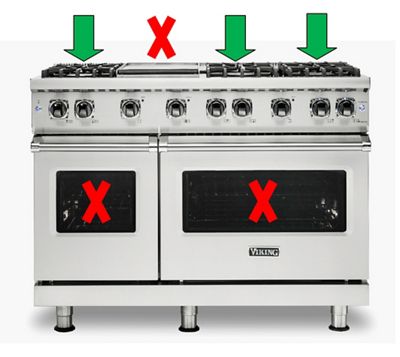 Consumers CAN CONTINUE TO USE the top surface burners of the range, indicated by the green arrows, but SHOULD NOT USE the griddle and ovens, indicated by the red Xs.
Viking has not received any reports of a separation or gas leak from consumers, nor has Viking received any reports of injury or property damage.
If you own a Viking freestanding gas range and suspect that your unit is affected by this recall or are unsure if your model is affected, please locate the model and serial number on your range and enter it into the form below. Once you submit your information, you will be prompted as to whether or not your range is affected. If you own an affected product, instructions regarding the next steps will be included.
Learn More.