Southern Specialties from Hit Movie "The Help"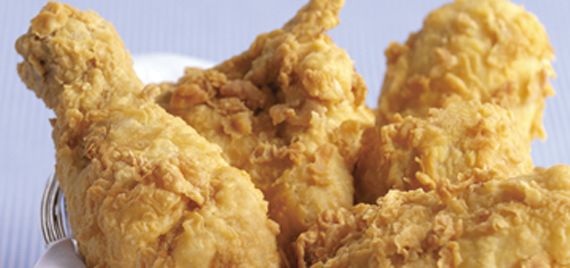 Crafty cook Minny Jackson from Kathryn Stockett's ?The Help? has a culinary cure for the blues. "Frying chicken always makes me feel a little better about life." If you left the movie itchin' to rustle up a fresh batch of crispy fried chicken and other soulful southern specialties, then we have just the class for you.  Learn to make finger-lickin' fried chicken, feather-light biscuits, creamy mac n' cheese, cornbread and silky greens in our fun workshop featuring delectable culinary delights from The Deep South. We'll end our scrumptious Southern spread with Minny's famous Chocolate Pie, so y'all make sure you save room for dessert!
SKILLS AND TECHNIQUES Marinating, seasoning, breading and frying chicken; testing chicken for doneness; making a homemade cheese sauce; sautéing aromatics; braising and seasoning greens; cutting fat into flour; making melt-in-your mouth biscuits using a special technique; making iron-skillet cornbread.

Adult classes are designed for students 16 years of age or older. (Note: Students must be 21 years of age to consume alcohol.)

Consuming raw or undercooked meats, poultry, seafood, shellfish or eggs may increase your risk of foodborne illness, especially if you have certain medical conditions. 
Recipes:
Southern Fried Chicken
Homemade Mac n' Cheese
Slow-Cooked Southern Greens
Skillet Cornbread
Shirley's Feather-Light Biscuits
Sample Recipe: Deviled Eggs
Sample Recipe: Sweet Tea
Sample Recipe: Minny's Chocolate Pie
Bonus Recipe: Flaky Butter Pie Dough
Bonus Recipe: Vanilla Butter Cake with Never Fail Creamy Caramel Icing
Southern Specialties from Hit Movie "The Help" :
Remaining Dates and Times in Greenwood, MS
Venues:
FAC = Viking Facility, D = Demo Theater, Bar = Bar, HO = Hands-on Kitchen, AS = Appliance Showroom, OG = Outdoor Grill, OS = Off Site, RF = Retail Floor, SK = Showcase Kitchen, TC = Training Center, WT = Wine Tasting Room