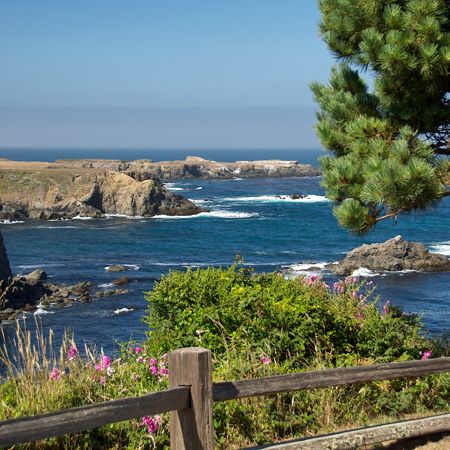 Once a hidden home to counterculture revolutionaries, anti-prohibitionists, surfers, hippies, abalone divers, gardeners tending to their weed, drop-outs, and those wanting to be far from the hum of modern life, Mendocino, California is now one of the largest and most hip counties in the state. Located a breathtaking, three-plus hour drive from San Francisco, this area remains remote and untouched by blatant commercialism.
With mile upon mile of shockingly blue coastline, the seas frothy and violent year round, to the deep, dark redwood forests further inland, Mendocino is home to some of the most beautiful natural terrain in the world. Tourists flock to the indescribably charming inns nestled into hills overlooking the ocean, perusing the galleries, hiking the forests, and kayaking the tributaries. Apple orchards, local honeys and beers, foraged mushrooms, freshly liberated abalone, line-caught fish, and grass-fed animals provide the means for memorable meals. And, of course, the wines are becoming known for their high quality and great value.
Indeed, grapes provide the second largest revenue to the area, with redwood logging, sheep, and apples trailing behind. One throwback fact that has not changed: the county's number one cash crop is still produced by the gardeners tending to their weed.
While Mendocino County is an AVA (American Viticultural Area) in its own right, it also contains seven distinctly different appellations located within its boundaries. Many other regions, such as the Ukiah Valley, are awaiting AVA approval. The overall Mendocino AVA has 11,000 acres of vineyards, located mainly in the southern portion of the county. The coastal appellations are Anderson Valley, Mendocino Ridge and Yorkville Highlands, while the inland appellations include Cole Ranch, McDowell Valley, Potter Valley, and Redwood Valley.
As it hugs the coast and its long fingers reach inland, Mendocino County has a wildly divergent climate and soils. Mountainous terrains share vineyard space with warm valley floors. And while any knowledgeable wine lover would presume that Mendocino would be a cool grape-growing area due to its proximity to the coast, the reverse is actually true. The fog's breath does not often penetrate the valleys, which lie far below the 2,000- to 3,000-foot ridges, leaving them exposed to the sun's warm, drying influence.
Many of the AVA's tucked into Mendocino County received their accreditation more than 20 years ago, quite ahead of the curve. The wines, however, are just beginning to capture the attention of true aficionados and, indeed, many of the region's wineries continue to list the more commonly known moniker of 'Mendocino' on their labels, rather than the proper AVA from where the fruit hails.
Three of the seven appellations that have captured wine drinkers' hearts and palates:
Anderson Valley was declared an AVA in 1983 and covers 57,000 acres, less than 2,000 of which are planted to the vine. Fine Pinot Noir, crisp Chardonnay, and rich Zinfandels mix it up with Riesling and Gewurztraminer, both of which are produced in dry and sweet styles. Handley, Husch, Lazy Creek, and Navarro all bottle brilliant examples. The sparkling wines of Roederer Estate in Anderson Valley are worthy of a special occasion, due to the cooling influence of the short Navarro River.
McDowell Valley Vineyards petitioned for the McDowell Valley AVA in 1983. This prescient house, with just over 700 acres under vine, continues to be the sole winery operating in this tiny AVA, situated in bench lands that slope upwards of 1,000 feet above sea level. The Rhone varietals produced here are noteworthy.
Potter Valley's AVA was established in 1983 with more than 27,000 acres; less than 1,000 are actually planted to grapes. It is known for its clean, crisp Sauvignon Blancs and bright, high-toned Chardonnays.
The independent spirit that has always permeated the region provides much of the impetus for many of the grape growers to pay homage to their lands by farming organically. Approximately 36% of all certified organic vineyard property in California is located in Mendocino. In Napa County, 5% of the vineyards are certified organic and in Sonoma that number drops to 1%. Vineyards in Mendocino which are farmed organically total 18%. Many wineries take the notion of sustainable and organic farming even further with biodynamic practices. This method dictates various activities be performed in the vineyard at specific times within the lunar calendar, utilizing the notion of full-circle farming, animals, their compost, and the constant turn of the earth.
Mendocino County proves that wines grown correctly, with the proper varietals married to their ideal sites, produce remarkable wines. Leading the charge for this large and diverse region is a unique group of people with a love of their land and a passion for their grape growing.
A view of the region through its wines:
2003 Demuth Winery Chardonnay, Anderson Valley
Located on a 1,600-foot ridge, Demuth purposefully holds and matures its Chardonnays, believing that with several years of bottle age, the wines develop nuance and complexity. They are full and weighty, with wonderful texture and aromas of mineral, stone, nuts, and citrus peel.
2005 Patz & Hall Chardonnay 'Alder Springs Vineyard,' Mendocino
Located at 2,100 feet on the high slopes of northern Mendocino County, the Alder Springs Vineyard lies within seven miles of the Pacific Ocean. This full-bodied Chardonnay is dense with stony minerals, apples, smoke, and wet earth.
2006 Copain Pinot Noir 'En Bois,' Anderson Valley
Talented winemaker Wells Guthrie employs natural primary and malolactic fermentations, and bottles his wines unfined and unfiltered to avoid stripping them of the vineyard's character. This delightful Pinot is delicate and exotic with a deep perfume of dark brambly fruit, flowers, stone, and spice.
2005 Handley Cellars Zinfandel 'Gianoli Vineyard,' Mendocino Ridge
In 1882 the Gianoli family, Italian immigrants, planted these Zinfandel vines on ridge tops at more than 1,200 feet. These wines are mouth-coating and silky, with notes of black-fruited jam, pepper, and dark spices.
2005 Paul Dolan Cabernet Sauvignon, Anderson Valley
Winemaker Paul Dolan employs biodynamic farming practices and wrote the manifesto: True to Our Roots: Fermenting a Business Revolution. His Cabernet has incredible texture with a good core of black and red fruits, heightened by notes of spicy anise.