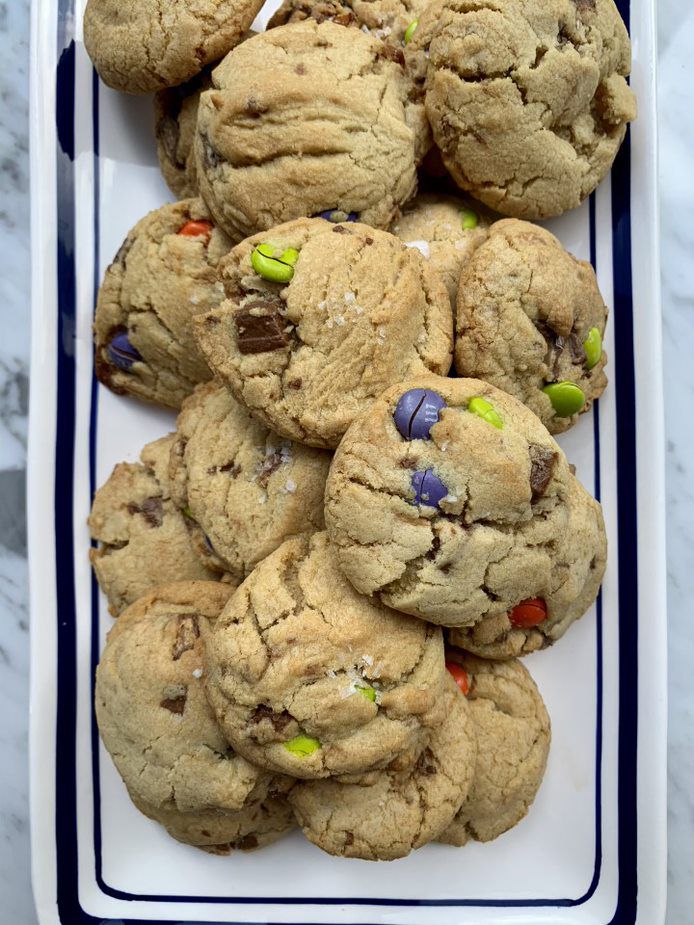 Leftover Halloween Cookies
Makes 2 dozen cookies
Prep time: 10 minutes
Cook Time: 15 minutes
Ingredients
3 cups all purpose flour
1 teaspoon baking powder
1 teaspoon baking soda
1 teaspoon sea salt
2 sticks unsalted butter, browned and cooled completely
3/4 cup granulated sugar
1 cup dark brown sugar
2 large eggs
2 teaspoons vanilla bean paste
2 1/2 cups favorite leftover Halloween candy, chopped (reese's peanut butter cups, m&ms, kit kats, snickers)
Flakey sea salt, for garnish
Directions
Preheat oven to 350 F degrees. Line 2 sheet trays with parchment paper.
In a medium bowl whisk together, flour, baking powder, baking soda, and salt. Set aside.
To a stand mixer with the paddle attachment, add cooled browned butter, both sugars, eggs, and vanilla bean paste. Whip until combined and fluffy, about 3 minutes. Add flour mixture in increments of 3. Once full incorporated, fold in chopped candy.
Using a tablespoon scoop, scoop out cookie dough onto prepared sheet tray keeping them 2 inches apart. Sprinkle with sea salt and bake in preheated oven for 10-12 minutes until edges begin to brown.
Remove from oven and let cool completely.