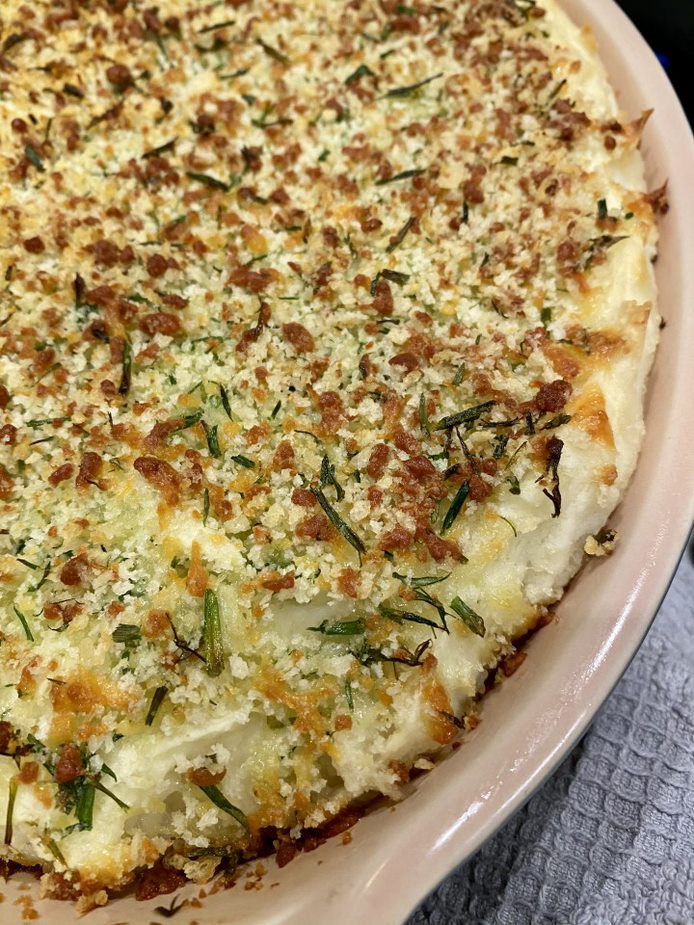 Perfect Mash for Two
Ingredients
3 russet potatoes (washed, peeled, cut into 1" cubes)
1/4 cup whole milk
1/2 stick unsalted butter
1/2 cup whipped cream cheese, room temperature
1/4 cup chives (finely chopped) plus more for garnish
1 cup shredded white cheddar
1/2 cup panko breadcrumbs
Kosher salt and freshly ground black pepper (to taste)
Directions
Place cut potatoes into a large pot with cold water. Bring to a boil, season with salt and cook until tender about 10 minutes. Strain and rice potatoes into a medium bowl. To a small sauce pot, gently warm milk and butter. Stir into rice potatoes. Fold in whipped cream cheese. Season to taste. Place into casserole dish.
To a food processor add chives, cheddar and panko. Pulse until combined. Pour over mash to cover. Bake at 350 F degrees for 45 minutes until golden.
*Best part about these, make them a day ahead just don't bake 'em! On T-day remove from refrigerator 1 hour prior to baking.