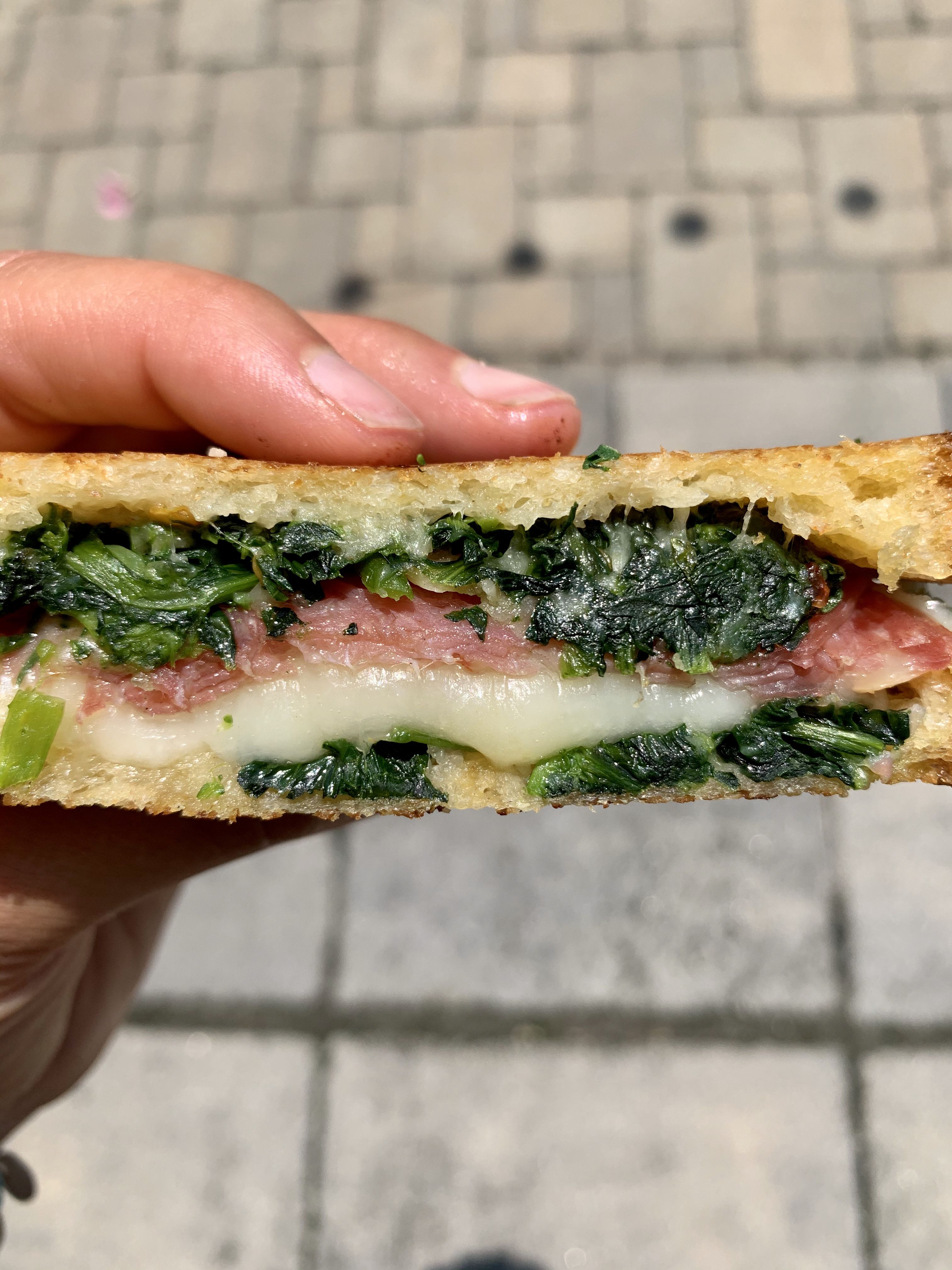 Pressed Sandwich
Prep time: 10 minutes
Cook time: 10 minutes
Serves 4
Ingredients
1 bunch broccoli rabe (ends trimmed)
2 tbsps olive oil
2 cloves garlic (thinly sliced)
1/2 tsp crushed red pepper flakes
1/2 cup freshly grated pecorino
1 tbsp honey
Kosher salt and freshly ground black pepper (to taste)
Assembly
1 loaf Country style bread (1/4" thick slices)
1/2 lb provolone (thinly sliced)
1/2 lb hot soppressata (thinly sliced)
Olive oil
Directions
Cook broccoli rabe in a large pot of boiling salted water until bright green, and softens. About 2-3 minutes. Drain. Squeeze out water; cut into 1-inch pieces.
In a large saute pan over medium heat, add oil. Once glistening add garlic and crushed red pepper flakes. Stir in broccoli rabe. Season with salt and pepper. Cook for 5 minutes. Remove from heat, add to bowl and let cool. Once cool, stir in cheese and honey. Mash with a fork. Set aside.  
Build sandwiches with bread, a spread of broccoli rabe pesto, provolone, soppressata. Brush a large skillet with oil. Heat over medium-low heat. Working in batches and brushing skillet with oil as needed, add sandwiches to pan, cover with foil, and place a heavy skillet on top. Cook until bread is toasted and cheese melts, 4-5 minutes per side. Remove and repeat. Slice and eat!