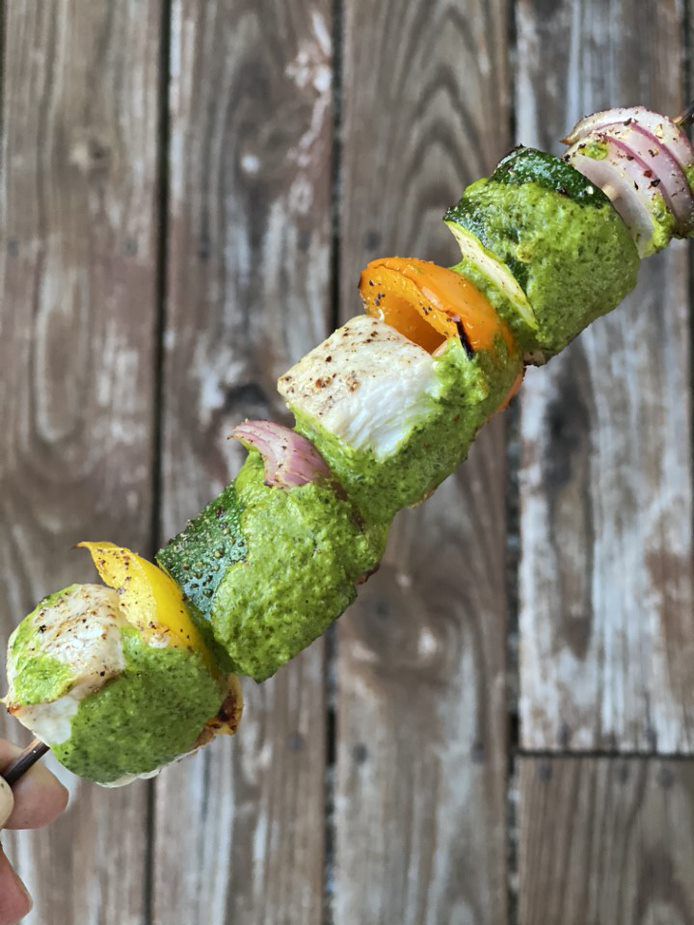 Swordfish Skewers
Ingredients
1 lb swordfish (cut into 1 ½" pieces)
2 medium zucchini (cut into 1" pieces)
1 red onion (cut into 1" pieces)
1 orange bell pepper (cut into 1" pieces)
1 yellow bell pepper (cut into 1" pieces)
¼ cup olive oil
Kosher salt and freshly ground black pepper (to taste)
Green Sauce
1 cup flat leaf parsley
½ cup cilantro
¼ cup fresh mint
1 shallot (peeled and halved)
½ teaspoon hot pepper flakes
3 limes (1 zested and juiced, 2 halved)
1 tablespoon honey
1 tablespoon white wine vinegar
½ cup olive oil
Kosher salt and freshly ground black pepper (to taste)
Directions
Soak a dozen 12" wooden skewers in water for at least 30 minutes. Preheat an outdoor grill or indoor grill pan to high. Prepare 2 sheet trays with foil.
To each skewer, alternately thread a piece of swordfish, zucchini, onion, and bell pepper. Repeat 2xs until skewer if filled. (you should have 3 of each ingredient) Set onto prepared sheet tray. Repeat with remaining ingredients. Season with olive oil, salt and pepper.
Green Sauce:
To the carafe of a blender, add parsley, cilantro, mint, shallot, hot pepper flakes, lime zest and juice, honey and vinegar. With the blender running, slowly drizzle in olive oil until mixture begins to come together. Season with salt and pepper. Pour sauce into bowl and set aside.
Turn grill down to medium high. Add prepared skewers to hot grill. Add halved limes to grill. Cook until fish and vegetables turn golden brown, turning occasionally about 6 minutes. During the last minute, add about 1 tablespoon of green sauce to the top of each skewer. Brush to coat whole skewer. Remove to 2nd prepared sheet tray. Remove charred limes. Serve skewers with additional green sauce and a squeeze of charred limes.