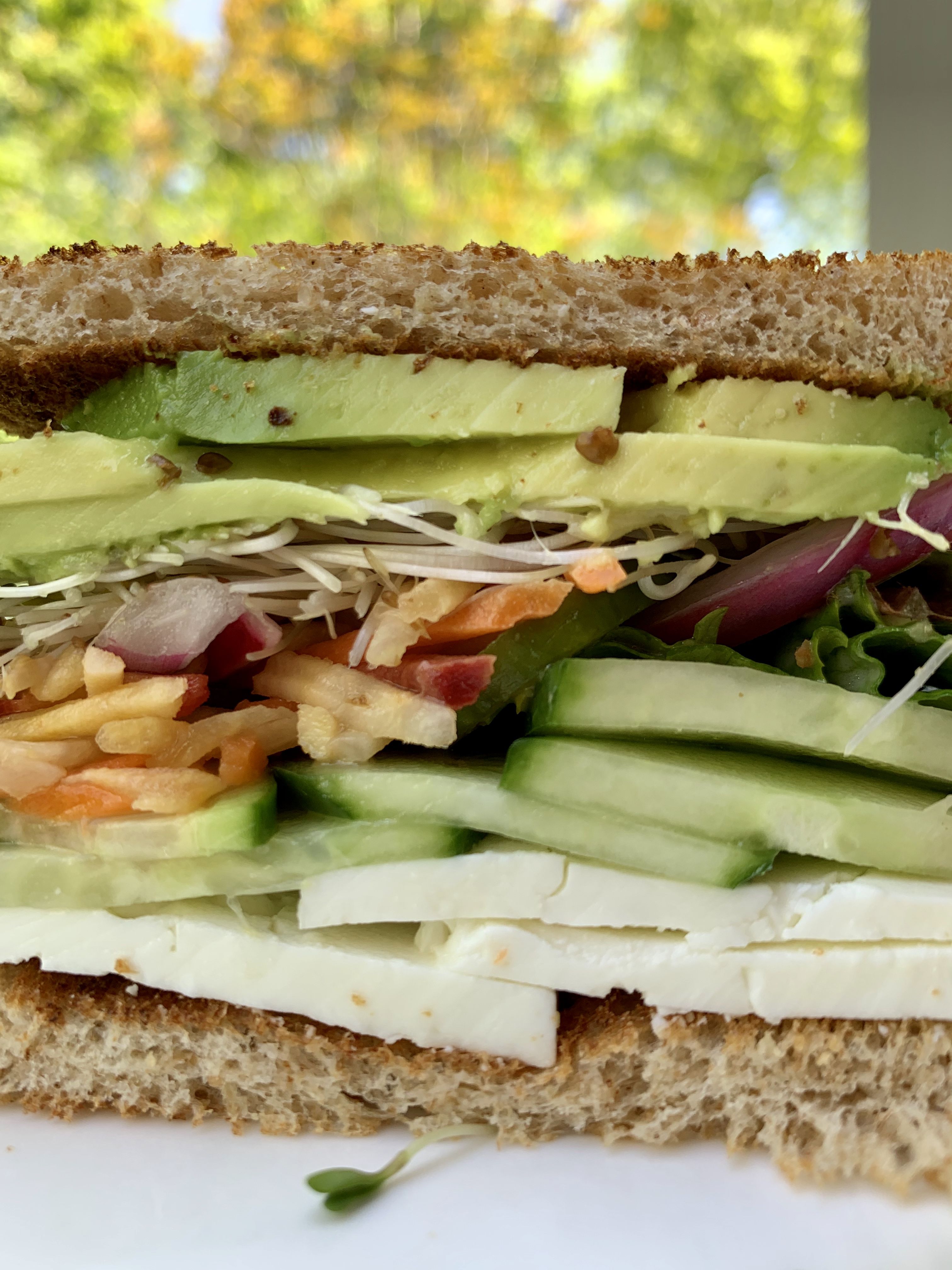 Veggie Sandwich
Serves 4
Prep Time: 00:10 minutes
Cook Time: 00:05 minutes
Ingredients:
Pickles
2 cups white distilled vinegar (or any vinegar you have)
½ c water
¼ c light or dark brown sugar (or granulated works)
2 tbsps kosher salt
1 c shredded carrots
1 c sliced or shredded cucumbers
1 c sliced red onions
1 c sliced celery
¼ c sliced red chilies
Vinaigrette
¼ c whole fat Greek yogurt
2 tbsps lemon juice
1 tbsp honey
2 tbsps olive oil
Kosher salt and pepper (to taste)
Assembly
1 (5 oz) box mixed lettuce
8 slices whole wheat bread
1 (4oz) block feta (thinly sliced)
1 English cucumber (sliced ½" thick)
1 ½ c sprouts
2 ripe avocados (halved & thinly sliced)
Directions:
Pickles:
Bring vinegar, brown sugar, salt, and 2 cups water to a boil in a large saucepan. Meanwhile, pack vegetables into jars. Pour brine over vegetables. Cover and chill until cool.
Vinaigrette:
Whisk yogurt, lemon juice, and oil in a large bowl until smooth. Season dressing with salt and pepper.
Assembly:
Add lettuce to a large bowl. Toss with dressing and set aside. To 4 slices of bread add sliced feta. Next, add dressed lettuce, then cucumber. Next, drain some pickled vegetables and place on top. Finally, top with sprouts and avocado. Place bread on top, cut in half and enjoy.
*Pickled veg can be kept in the refrigerator for up to 1 month. If it last that long!