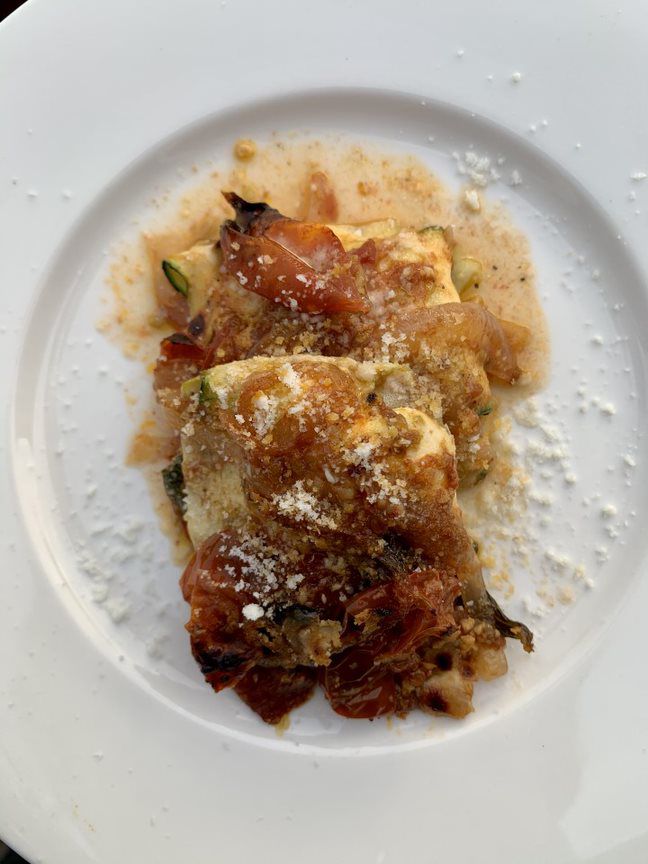 Zucchini Ravioli
Prep Time: 00:10 minutes
Cook Time: 00:30 minutes
Serves 4
Ingredients
Quick Cherry Tomato Sauce
1 tablespoon olive oil (plus more for pan)
1 tablespoon unsalted butter
1 shallot (thinly sliced)
1 garlic clove (grated)
3 pints cherry tomatoes
½ cup white wine
½ cup fresh basil leaves
Kosher salt and freshly ground black pepper (to taste)
Zucchini Ravioli
2 large zucchini
2 cups whole milk ricotta cheese (drained)
¼ cup flat leaf parsley (chopped)
¼ cup basil leaves (chopped), plus more for garnish
1 lemon (zest only)
¼ cup freshly grated Pecorino Romano (plus more for garnish)
2 tablespoons olive oil
Kosher salt and freshly ground black pepper (to taste)
Directions
Preheat oven to 375 F degrees. Prepare a 9x9 inch square baking dish with olive oil.
In a high sided saute pan over medium high heat, add olive oil and butter. Once bubbling, about 1 minute, add in shallot and garlic. Season with salt and pepper. Stir constantly, for about 3 minutes until onions begin to wilt. Add cherry tomatoes and stir until coated with onions and garlic. Deglaze pan with white wine, add basil leaves, cover with lid and allow cherries to burst open, about 10 minutes. Remove from heat and place a ladleful of sauce into bottom of prepared baking dish.
Using a Y peeler, shave the zucchini lengthwise, creating long thin slices of zucchini. Rotate the zucchini as you are peeling to create the widest zucchini noodle possible. Continue until all zucchini is shaved. In a medium bowl, add ricotta, parsley, basil, lemon zest, ¼ cup grated pecorino, salt and pepper. Stir until combined. Place into a piping bag or zip top bag and cut the tip. Lay 2 pieces of zucchini onto a work surface, so that they overlap lengthwise, creating a "t". Pipe about 1 tablespoon of ricotta filling into the center where both pieces of zucchini meet. Brings the ends of the zucchini strips together to fold over the center of the ricotta filling. Turn ravioli over and place into prepared baking dish seam side down. Repeat until all zucchini is filled and folded.  Drizzle with olive oil and season with salt and pepper. Top with more sauce and place into oven. Bake for 25 minutes until warmed through and bubbling. Remove from oven, garnish with grated pecorino and serve.